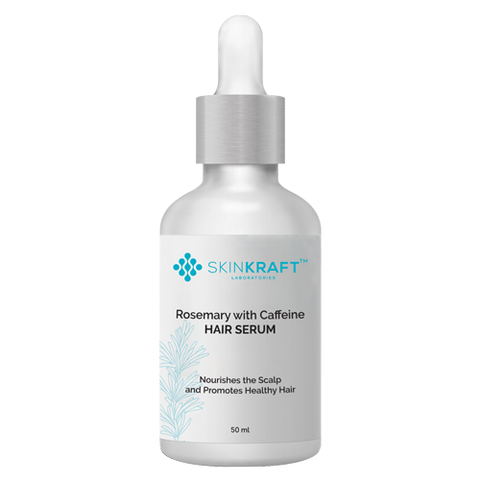 Rosemary & Caffeine Pro-Growth Hair Serum
SkinKraft
Rosemary & Caffeine Pro-Growth Hair Serum
What It Does
The Pro-Growth Hair Serum is infused with anti-hair fall and hair growth-inducing ingredients. The ultra-modern serum is mild on the scalp and goes deep to rejuvenate and strengthen the hair follicles- preventing hair fall. It also helps in controlling frizz by smoothening the hair.
This serum activates the dormant hair follicle tissue on your scalp for hair regeneration.
The Rosemary extracts in the serum unclogs hair follicles and strengthens the hair, thereby preventing hair fall. It also has anti-inflammatory properties that soothe the scalp.
It is infused with 18-MEA that repairs the cuticle layer- the outermost layer of the hair. It moisturizes and nourishes the hair, and controls frizz.
The Antioxidants promote healthy hair growth by protecting the strands and follicles against cell damage. They also act as a catalyst to hair growth by increasing the blood and nutrient supply to the scalp.
The Caffeine in the serum stimulates hair growth by increasing blood circulation to the hair follicles. It also makes the hair stronger, fuller, and thicker.
How To Use
Apply 8 - 10 drops on the scalp. Massage it into the scalp and through the length of the hair strands. For best results, use daily at night.
Quantity: 50 ml
Formulated For: 60 days