SkinKraft
Anti-Acne Face Mask For Acne Prone Skin
100gm
11 reviews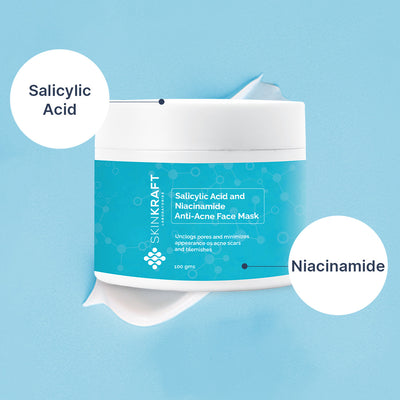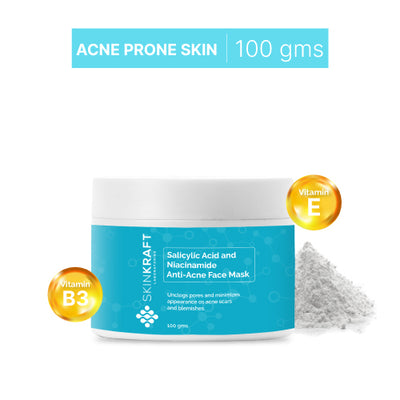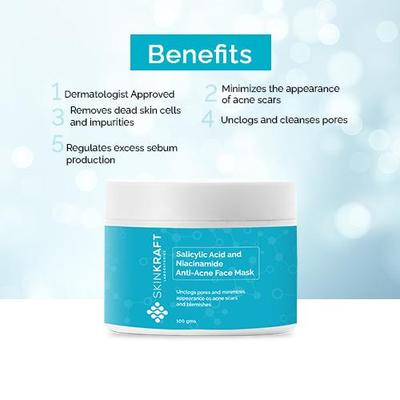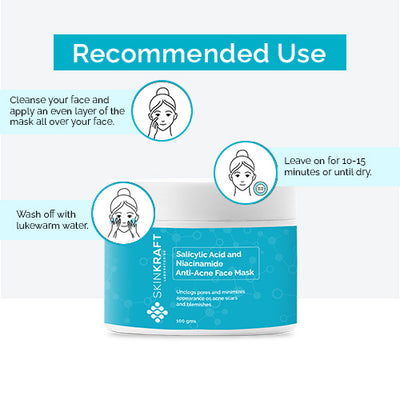 Anti-Acne Face Mask For Acne Prone Skin
100gm
Free Of Parabens, Sulfates
Dermatologist Approved
pH Balancing
100% Safe & Effective
Free Shipping Offer Unlocked!
100% Satisfaction Guarantee! Eligible For A Refund If The Product Doesn't Meet Expectations.
Product Description
The Salicylic Acid And Niacinamide Anti-Acne Face Mask is packed with nourishing ingredients that are gentle yet effective. This mask exfoliates dead skin cells, unclogs pores, and leaves your skin feeling soft and smooth.
What's inside ?
Here's What Your Face Mask Is Made Of
Salicylic Acid
Helps to exfoliate and unclog pores, preventing acne formation.
Niacinamide
Reduces inflammation and redness associated with acne, while also helping to regulate sebum production.
Vitamin E
A powerful antioxidant that helps promote skin healing.
Recommended Use
Cleanse your face and apply an even layer of the mask all over your face.
Leave on for 10-15 minutes or until dry.
Wash off with lukewarm water.
Customer Testimonials
I've struggled with acne for years, but this mask has made a big difference in my skin. My skin looks clearer than ever now. Thanks Skinkraft!
Hemalata, Chennai
I was hesitant to try this mask because I have sensitive skin, but it's been great. My skin feels really clean and soft every time I use it. I highly recommend this to people with acne scars.
Shanaya K, Bangalore
I love this mask! It's really helped me with my acne. I use it every week and I'm happy with how my skin looks now. I'm definitely going to order this one again!
Alia Nanda, Pune
FAQs
How often should I use this mask?
You can use this mask up to two times a week.
Will this mask dry out my skin?
No, this mask is formulated with nourishing ingredients like Vitamin E to prevent dryness.
How long should I leave the mask on?
You should leave the mask on for 10-15 minutes or until it is dry.
Is this mask cruelty-free?
Yes, this mask is cruelty-free.
How long will one jar of this mask last?
One jar of this mask should last approximately 1-2 months with regular use.
Here's What Our Customers Say About Us
Very faithful products,I am using regularly
Works perfectly for my acne-prone skin. I've noticed a significant reduction in the acne scars on my face since I started using this face mask.
I used to struggle with frequent breakouts on my face and nothing really worked for me. But using this mask regularly has reduced these irritating breakouts by a lot.
No face mask has suited my acne skin better than this one from skinkraft. The previous masks I tried always caused a little redness or roughness in my skin. But this mask is absolutely gentle on the skin.
My friend suggested I try this mask out for my acne and it has worked beyond my expectations. It is now part of my regular acne care skin routine.
I've had scars on my skin which was a result of past acne. Tried many products but nothing really worked. But this amazing face mask has visibly reduced the appearance of the scars.
No matter what I did, I couldn't control acne breakouts. But ever since I started using this face mask, I don't worry about recurring acne anymore
Works wonders for my skin! Doesn't cause any redness and keeps my skin clean and smooth.
This is now my favourite face mask. I've had several acne blemishes on my skin which started to fade since I started using this face mask.
Been using this face mask regularly now and I am happy with the results. It does exactly what it claims and keeps acne from recurring.