SkinKraft
Scalp Quench Hairfall Oil For Dry Hair
200ml
13 reviews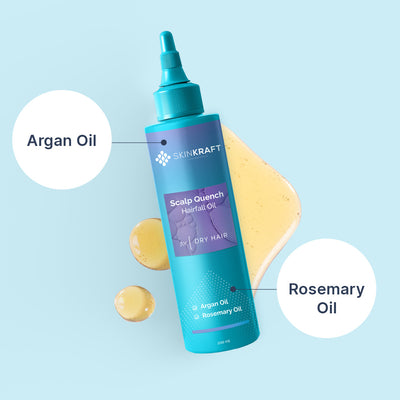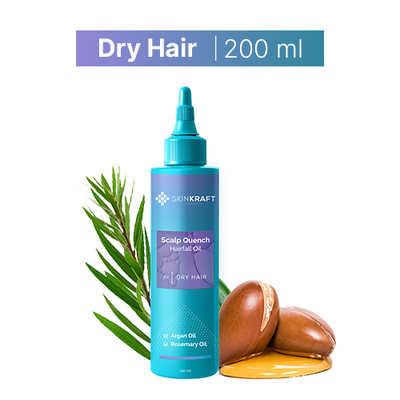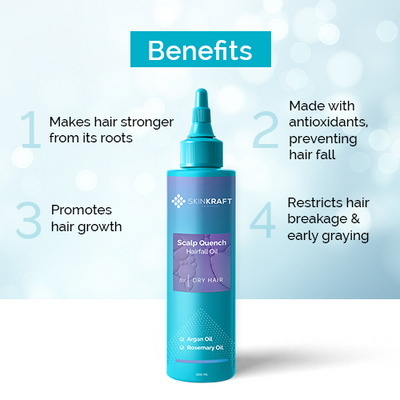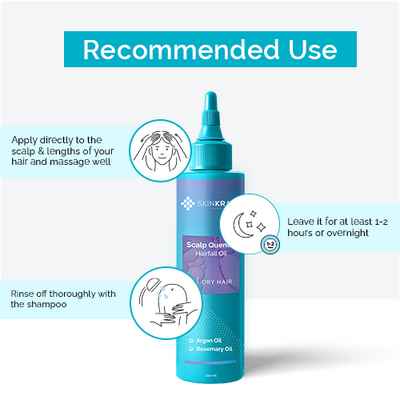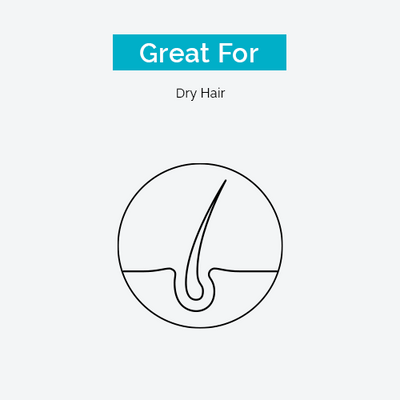 Scalp Quench Hairfall Oil For Dry Hair
200ml
Free Of Parabens, Sulfates
Dermatologist Approved
pH Balancing
100% Safe & Effective
Free Shipping Offer Unlocked!
100% Satisfaction Guarantee! Eligible For A Refund If The Product Doesn't Meet Expectations.
Product Description
The Scalp Quench Hair fall Oil is a non-greasy formula that helps fight hair fall and promote healthy hair growth. With regular use, this hair oil can help to reduce hair breakage, prevent early graying and restore your hair's natural shine.
What's inside ?
Here's What Your Booster Oil Is Made Of
Argan Oil
Moisturizes and nourishes the scalp and hair, promoting healthy hair growth.
Rosemary Oil
Improves blood circulation to the scalp and prevents hair loss.
Coconut Oil
Deeply conditions the hair prevents breakage and improves overall hair health.
Recommended Use
Apply directly to the scalp & lengths of your hair and massage well
Leave it for at least 1-2 hours or overnight
Rinse off thoroughly with the shampoo
Customer Testimonials
This oil really works!! It has helped me to reduce my hair fall and strengthened my hair. My hair thickness has also increased after using it. This is my permanent go to hair oil from now on!
Tanushree M, Surat
I just love this skinkraft oil. It smoothes my hair and seriously helps in decreasing hair fall. You can use it in your weekly hair care routine like I do. Highly recommended.
Mahima Gupta, Jaipur
One more amazing product from skinkraft. My hair feels super healthy after every use. Absolutely loved it! Will be using this continuously and see more benefits!!
Keerthi Khurana, Patna
FAQs
How often should I use Scalp Quench Hairfall Oil?
You can use the oil once a week for best results.
How long should I massage the oil into my scalp?
You should massage the oil into your scalp for at least 5-10 minutes to ensure it penetrates deeply.
Can I use Scalp Quench Hairfall Oil if I have oily hair?
Yes, you can use the oil even if you have oily hair. Just make sure to rinse it off thoroughly with shampoo.
Can Scalp Quench Hairfall Oil be used on colored or chemically treated hair?
Yes, the oil is safe to use on colored or chemically treated hair.
Does Scalp Quench Hairfall Oil have any side effects?
The oil is made from natural ingredients and is free from harmful chemicals, so it is safe for use.
Here's What Our Customers Say About Us
It's the best oil I ever used and everyone in my house uses only this oil because it's the best oil ever and it really works
This oil is perfect to nourish my dry ends.
My hair fall has actually reduced a lot after using this oil.
Best product ever
My friend recommended this oil to me for my dry and frizzy hair and now I can't use any other oil, it is so good.
I think this is the best oil at this price. Love it, thanks Skinkraft!
I think my hair is in love with this oil. I recommend everyone with dry hair to try it out.
I already used Skinkraft shampoo and conditioner for my dry scalp and dry hair. Then, I tried this oil and it is soooo good, love it!
My friend recommended this oil to me for my dry and frizzy hair and now I can't use any other oil, it is so good.
Best oil for dry hair at this price. Thank you skinkraft, loved it!