SkinKraft
Oily Skin Sebum Control Cleanser For Women
60ml
16 reviews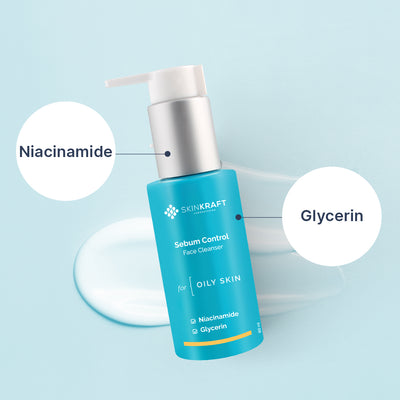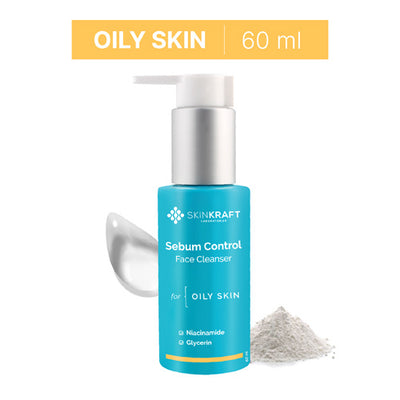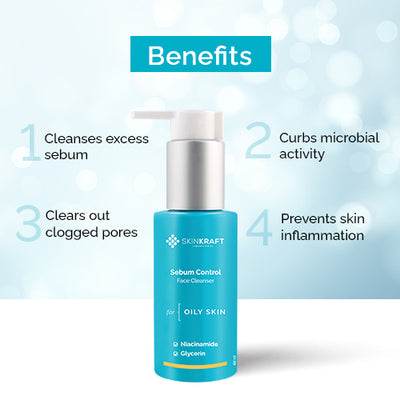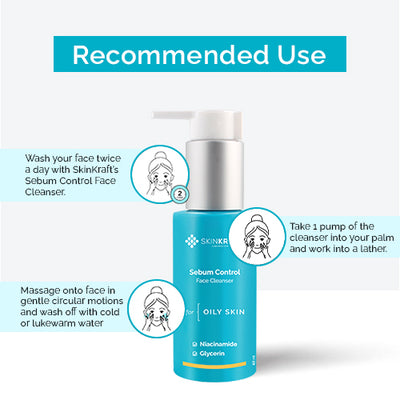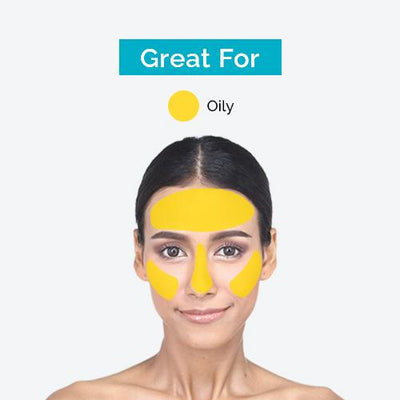 Oily Skin Sebum Control Cleanser For Women
60ml
Free Of Parabens, Sulfates
Dermatologist Approved
pH Balancing
100% Safe & Effective
Free Shipping Offer Unlocked!
100% Satisfaction Guarantee! Eligible For A Refund If The Product Doesn't Meet Expectations.
Product Description
The Sebum Control Cleanser removes excess oil (sebum) without disturbing its pH balance, hence, it doesn't make the skin too tight or dry. It also helps in controlling sebum production and keeping the skin smooth throughout the day.
What's inside ?
Here's What Your Sebum Control Cleanser Is Made Of
Aloe Barbadensis
an ingredient rich in antioxidants that helps improve the skin's elasticity and provides ample hydration.
Glycerin
A humectant that allows the skin to retain moisture, increases skin hydration, and relieves dryness
Syndets
Helps maintain the natural pH level of the skin and locks in moisture.
Polyquaternium
provides hydration and has forming properties that help spread the rest of the ingredients evenly throughout the skin.
Recommended Use
Wash your face twice a day with SkinKraft's Sebum Control Face Cleanser.
Take 1 pump of the cleanser into your palm and work into a lather.
Massage onto face in gentle circular motions and wash off with cold or lukewarm water
Customer Testimonials
I'm using this product since almost a month and it works well on my skin... It doesn't make my skin feel oily and my face actually feels very soft and smooth… will definitely buy this again!
Snehal Gupta, Lucknow
This is the only cleanser that actually cleans my face and makes it feel very smooth. And it is also very mild so it does not make my skin feel dry or tight like other brands did. I love how it worked for me.
Sunandha Thakur, Delhi
Good product and budget friendly too!
It's amazing for my skin oiliness. Makes my skin feel so smooth after wash.
Anagha, Gurugram
FAQs
Can the cleanser be used for dry skin?
No, this cleanser is best suited for extremely oily to normal-oily skin types.
Can this cleanser be used for acne?
Yes, if your skin type is extremely-oily/normal-oily, you can use this cleanser for acne.
What is the pH balance of the product?
5.5-6 same as the skin's pH level, so this cleanser does not make the skin tight or dry
Does it remove makeup?
No, the cleanser does not remove makeup.
Does it contain Paraben?
The cleanser is free of 24 toxic ingredients like Parabns, SLS, Formaldehyde etc.,
Here's What Our Customers Say About Us
I never thought my skin would be so beautiful....but thankyou skincraft
I am in love with all of your products.....
My friend suggested that I try this product and I am so happy I did. I don't worry about my face looking too oily now.
I no longer carry blotting paper because my face is not so oily anymore. All thanks to this cleanser. Must try product for oily skin types for sure.
My skin does not feel very oily even after 3-4 hours. This is the perfect cleanser for my oily face.
Great face wash Face feels soft and smooth after using this.
I love this product 💜
This product to help me thank you so much 💜💜
Best for oily skin I've found this to be the best cleanser for my oily skin. Will buy this one again for sure.
I'm really glad I found this product. It really helps with my oily skin and makes it look fresh throughout the day.