SkinKraft
Acne-Limit Toner For Acne Prone Skin
100ml
10 reviews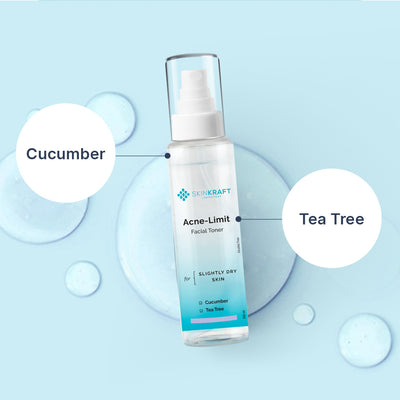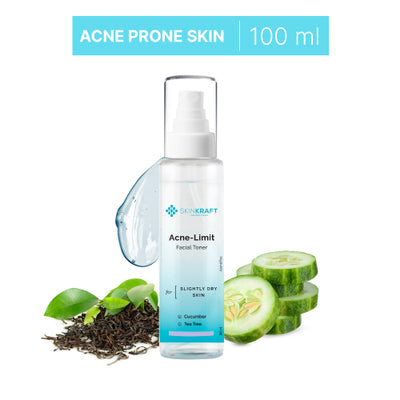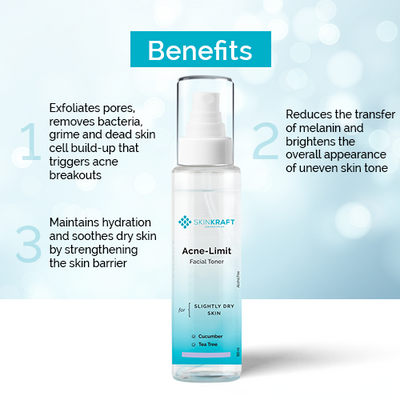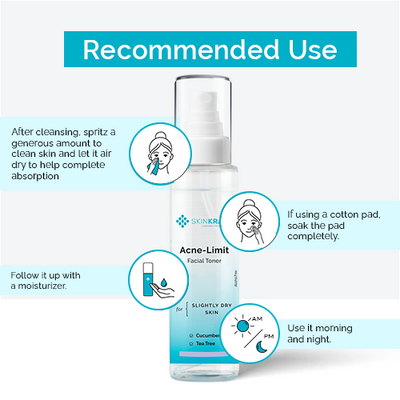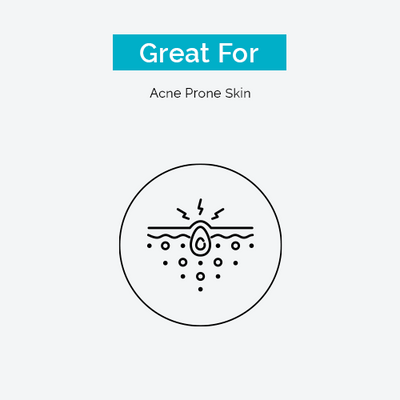 Acne-Limit Toner For Acne Prone Skin
100ml
Free Of Parabens, Sulfates
Dermatologist Approved
pH Balancing
100% Safe & Effective
Free Shipping Offer Unlocked!
100% Satisfaction Guarantee! Eligible For A Refund If The Product Doesn't Meet Expectations.
Product Description
The Acne-Limit Facial Toner helps remove bacteria, grime, and dead skin cell build-up that trigger acne breakouts. It also helps even out the overall appearance of uneven skin tone, while maintaining the hydration levels of the skin.
What's inside ?
Here's What Your Toner Is Made Of
Cucumber
Helps calm irritated skin and boosts the skin's hydration levels.
Tea Tree
Known for its antibacterial and anti-inflammatory properties, tea tree helps reduce the appearance of acne and redness.
Salicylic Acid
A powerful ingredient that helps remove dead skin cells from the top layer, decreases redness, reduces excess oil, and unclogs pores.
Recommended Use
After cleansing, spritz a generous amount to clean skin and let it air dry to help complete absorption.
If using a cotton pad, soak the pad completely.
Follow it up with a moisturizer.
Use it morning and night.
Customer Testimonials
I just love this toner from Skinkraft! My pimple marks have faded quite a lot and my skin feels much more smoother now. I highly recommend it!
Lavanya Sreekar, Coimbatore
I've been using this toner for a few weeks and I can really see that my pimples have decreased. My skin feels much more hydrated and my pores are less noticeable. Thanks skinkraft!
Anita T, Faridabad
I love this toner! It's really mild and helps keep my acne under control. My skin looks and feels so much better since I started using it. Will definitely buy this again!
Rinky Pandey, Chandigarh
FAQs
How often should I use this toner?
It is recommended to use the Acne-Limit Facial Toner twice a day, in the morning and at night, after cleansing.
How does this toner help with acne breakouts?
The toner helps to deeply cleanse pores, removing bacteria, grime, and dead skin cell build-up that triggers acne breakouts.
Can this toner be used as a makeup remover?
No, this toner is not designed to be used as a makeup remover. It is recommended to use a separate makeup remover before cleansing.
Can I use this toner in place of a cleanser?
No, this toner is not a substitute for a cleanser. It is recommended to use a cleanser before using the toner.
Is this toner cruelty-free?
Yes, this toner is cruelty-free.
Here's What Our Customers Say About Us
I started to notice how my acne breakouts had significantly reduced since I started using this toner. Thank you SkinKraft!"
I have a couple of post acne marks on my face which didn't reduce no matter what I did. But ever since I started using this toner, I started to notice how the stubborn acne marks started to slow fade"
The perfect toner for my acne prone skin. Keeps acne breakouts under control and also exfoliates dead skin cells effectively"
I never understood the importance of adding a toner to my skincare routine until I started using this toner. It keeps my acne-prone skin from breaking out and clears the pores on my skin very effectively"
Love this toner because it keeps my acne in check and also regulates excess oils on my face very effectively"
Does exactly what it promises. I've been using this toner for weeks now and my skin feels great. Clogged pores and excess oil production is no more a stress to me"
The perfect toner for a person like me who struggles with acne very often. Doesn't cause any reaction or redness and keeps acne breakouts under control"
I started visibly noticing how clearer my skin started to feel and look ever since I started using this toner"
I love this toner because it not only keeps acne under control but it has also helped even out my skin tone by several shades"
I've tried several toners but they often caused clogged pores on my skin. But not this toner. I've been amazed at how it controls acne and also exfoliates the pores on my skin"