SkinKraft
Normal Skin AcneShield Cleanser
60ml
11 reviews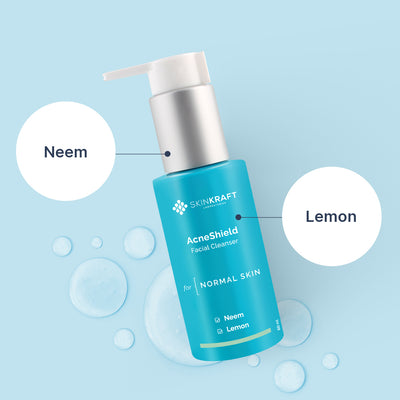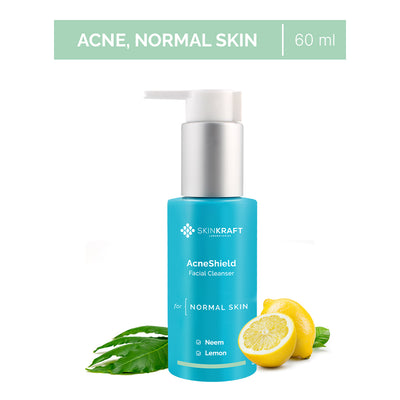 Normal Skin AcneShield Cleanser
60ml
Free Of Parabens, Sulfates
Dermatologist Approved
pH Balancing
100% Safe & Effective
Free Shipping Offer Unlocked!
100% Satisfaction Guarantee! Eligible For A Refund If The Product Doesn't Meet Expectations.
Product Description
The AcneShield facial cleanser is specially formulated for normal skin types. It unclogs pores while controlling excess oil production. It is ideal for daily use as it effectively removes dirt, oil, and impurities without irritating the skin or causing redness.
What's inside ?
Here's What Your AcneShield Facial Cleanser Is Made Of
Citrus Peel Extract
This natural extract is rich in antioxidants that help provide plumpy, healthier-looking skin.
Neem Leaf Extract
Known for its antibacterial and anti-inflammatory properties, neem leaf extract helps to soothe acne-prone skin.
Glycolic Acid
Gently exfoliates the skin, removes dead cells, and provides even-toned skin. It also helps to reduce the appearance of acne scars and blemishes.
Recommended Use
Take 1-2 pumps of the cleanser into your palm & work it into a lather
Gently massage onto your face in circular motions
Wash it off with lukewarm water
Customer Testimonials
I had a lot of pimples and pimple marks on my face. This is the only cleanser that I could actually use without breaking out more. This is my new favorite now.
Anjali Mehra, Pune
This is one of the best products by Skinkraft. It actually worked really well for my severe pimples and redness. I highly recommend this product.
Heeba Javid, Chennai
Just the best! Great for my acne. Really mild and it makes my skin soft and clear after each use. I'd say go for this!
Indra Reddy, Mumbai
FAQs
What kind of skin type is this cleanser best suited for?
This cleanser is best suited for normal-dry and normal-oily skin types.
What is this cleanser best used for?
This cleanser is perfect for controlling acne and reducing the appearance of acne scars.
What is the pH balance of the product?
5.5-6 same as the skin's pH level, so this cleanser is perfectly mild for daily use.
Does it remove makeup?
No, the cleanser does not remove makeup.
Does it contain Paraben?
The cleanser is free of 24 toxic ingredients like Parabens, SLS, Formaldehyde, etc.,
Here's What Our Customers Say About Us
80
I used combo offer 5 months pack of skinkraft, now I'm happy to say this my face is become clear and I want to continue this product for my skin pores are remaining and pimples marks
Love the product. My skin feels so fresh with every wash! I'm so happy with my clear skin these days.
SkinKraft, you have turned me into your regular customer. I'm in love with my skin!!
My skin doesn't feel rough or dry. Finally understood how choosing the right product is beneficial for your skin. Thanks, SkinKraft!
Nice cleanser for normal skin people. My acne is slowly reducing. Happy & satisfied with this product.
My skin is no longer irritated! Worth spending every penny on this wonderful cleanser. Thank you, SkinKraft.
My skin feels not only smooth & soft but also glows. Nice product.
My skin was rough before. Lots of acne & scars too. It does shield my skin from frequent acne breakouts.
This is the best acne cleanser I've ever come across. Thank you, SkinKraft!
Totally satisfied with this cleanser.