SkinKraft
Brightside Night Cream For Dull & Aging Skin
30ml
9 reviews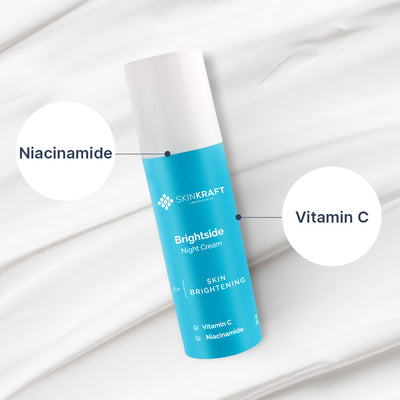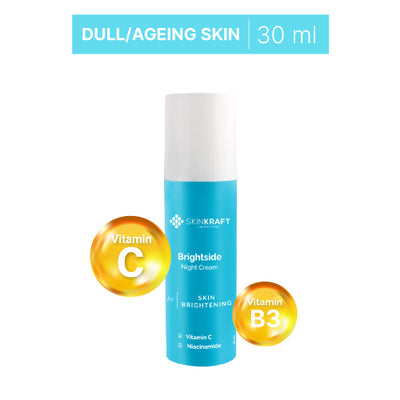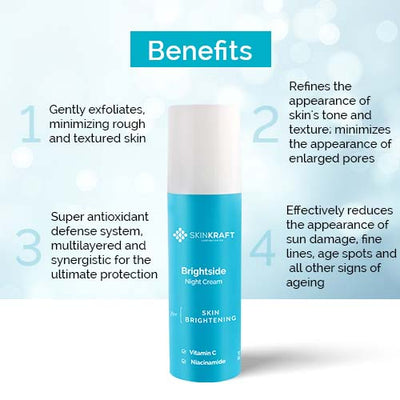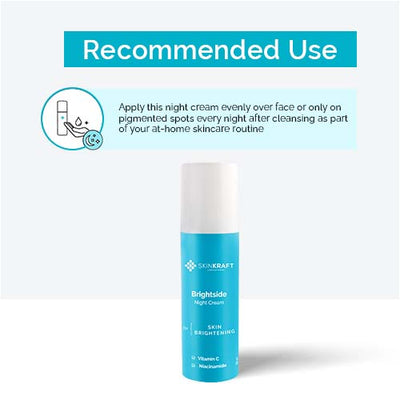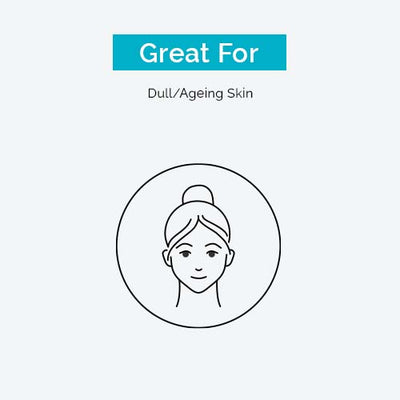 Brightside Night Cream For Dull & Aging Skin
30ml
Free Of Parabens, Sulfates
Dermatologist Approved
pH Balancing
100% Safe & Effective
Free Shipping Offer Unlocked!
100% Satisfaction Guarantee! Eligible For A Refund If The Product Doesn't Meet Expectations.
Product Description
The Brightside Night Cream is a powerful formula that provides even-toned, smoother skin by minimizing the appearance of fine lines and wrinkles.
What's inside ?
Here's What Your Night Cream Is Made Of
Niacinamide
Helps improve the appearance of uneven skin tone, fine lines, and dullness.
Vitamin C
A powerful antioxidant that helps smoothen the skin and protect it against environmental damage.
Recommended Use
Apply this night cream evenly over face or only on pigmented spots every night after cleansing as part of your at-home skincare routine
Customer Testimonials
This is a great night cream by skinkraft. I have been using it for over 3 weeks and I can really feel that the lines around my eyes have reduced. I'm definitely going to continue using this one!
Syamala Kela, Kolkata
Skinkraft has really impressed me with this product. It's super lightweight and moisturizes my skin really well. This is probably one of the best night creams I've ever used!
Rucchi Kumari, Delhi
Just what I needed for daily use. This cream is very helpful because I just put it on every night and wake up with softer skin. Thanks for this skinkraft!
Rachna Singh, Amritsar
FAQs
How often should I use the Brightside Night Cream?
Use it every night after cleansing as part of your at-home skincare routine.
Will this cream clog my pores?
No, it will not clog your pores. It is a non-comedogenic formula.
Is this product cruelty-free?
Yes, this product is cruelty-free and not tested on animals.
Can this product be used by men?
Yes, this product is suitable for both men and women.
Can I use this cream if I have dry skin?
Yes, the formula is gentle and hydrating, so it can be used by those with dry skin.
Here's What Our Customers Say About Us
Must buy for smooth skin
My skin feels so smooth because of this cream. My skin feels so plump and bouncy. Cant believe it!
Nice product recommend to all
Amazing product. Makes skin very smooth. I prefer night creams and this product is the best.
I love this cream, absorbs quickly, non greasy, smells great. Im using face wash and serum also from skinkraft only
Perfect cream for the night. My skin doesnt look oily in the morning but feels so smooth and bouncy.
Definitely a must buy if you want smooth skin. Normal serums & oils are super expensive and you need to know how to use them otherwise they will cause more harm than good. This is a very easy to use, no fuss product.
Got this because of my sister who loves this night cream. This works wonders on my dull and dry skin. Your skin feels soo good in the morning.
Got this after seeing the impressive ingredient list. It is working well so far. My skin feels very healthy in the morning. Must try if you are looking for night cream.
I have a lot of skin texture due to my old acne and large pores. I also have a lot of pigmentation and dark spots. I have tried using many products but no one product works on all my problems and multiple products overwhelms my skin and causes breakout. I have been using this for 1 month now and I can see visible results on both textures and dark spots. Just be patient, it will take some time to see significant results