SkinKraft
Correxion Night Cream For UV Damaged Skin
30ml
12 reviews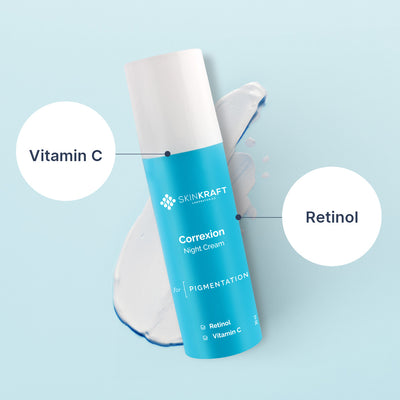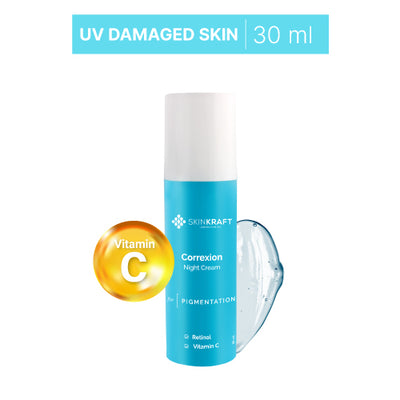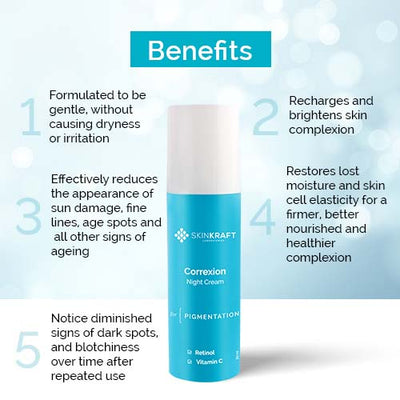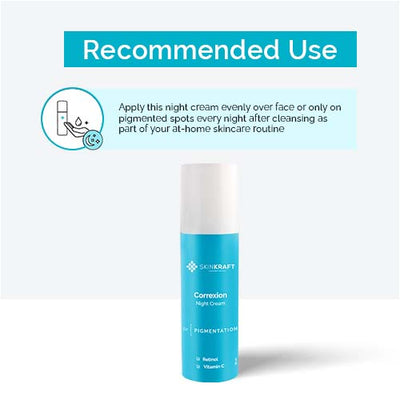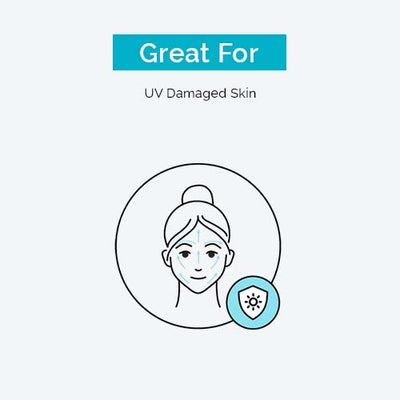 Correxion Night Cream For UV Damaged Skin
30ml
Free Of Parabens, Sulfates
Dermatologist Approved
pH Balancing
100% Safe & Effective
Free Shipping Offer Unlocked!
100% Satisfaction Guarantee! Eligible For A Refund If The Product Doesn't Meet Expectations.
Product Description
Correxion Night Cream effectively reduces the appearance of sun damage, dark spots, and hyperpigmentation. It effectively restores lost moisture and skin cell elasticity for smoother and healthier-looking skin.
What's inside ?
Here's What Your Night Cream Is Made Of
Vitamin C
A powerful antioxidant that helps provide even-toned skin.
Retinol
Encourages skin cell turnover and stimulates collagen production to reduce the appearance of fine lines and wrinkles.
Recommended Use
Apply this night cream evenly over face or only on pigmented spots every night after cleansing as part of your at-home skincare routine
Customer Testimonials
I love how well this night cream suits my skin. It has really helped me with my tanned skin. I highly recommend this product by skinkraft!
Monomita C, Kolkata
I use this cream every night without fail. And I can really say that it has made my skin much clearer than before! I'm definitely going to buy this again!
Raveena Pal, Agra
10/10 highly recommended! This cream is my favorite product by skinkraft. It really faded away my dullness and I'm glad I gave it a try!
Shonita D, Mumbai
FAQs
How often should I use Correxion Night Cream?
You should use Correxion Night Cream every night as part of your at-home skincare routine.
Can I use Correxion Night Cream during the day?
No, Correxion Night Cream is formulated for use at night only.
Can Correxion Night Cream be used around the eye area?
Yes, Correxion Night Cream can be used around the eye area, but be careful not to get it in your eyes.
Is Correxion Night Cream cruelty-free?
Yes, Correxion Night Cream is cruelty-free.
Can this product be used by men?
Yes, this product is suitable for both men and women.
Here's What Our Customers Say About Us
I have spots and this product works for me. My skin looks glowing and spots are reducing.
Fav product from my fav brand. Love the products.
I have sensitive skin and sun and pollution makes it worse. But this product is my skin savior. As soon as i apply it my skin feels so calm and smooth. It also makes my skin smooth and glowing in the morning.
I didnt think it would actually make my skin feel so soft during such winters. 10/10 Im impressed!
Best product. Adds a shine to the skin and good quantity.
Nice cream for pigmentation
Go for it guys! It's soo good! I wake up with soft and glowy skin in the morning. Great product.
I have been using the SkinKraft customized regimen for the past 3 months and it has worked really well for me. So I decided to give this a try since it has Retinol in it. Very impressed with the result. Works well with my regimen too!
Got this for my mom who has some age spots and very dehydrated skin. She loves it, it's been a few weeks and her skin looks glowy and bright!