SkinKraft
Dark Spot Brightening Serum For Women
30ml
12 reviews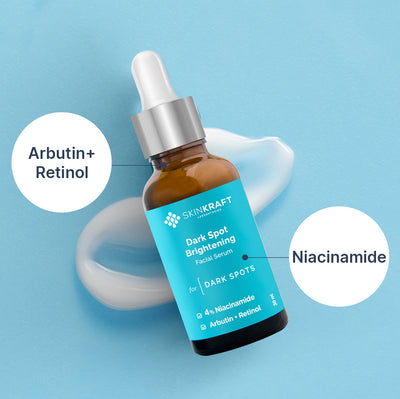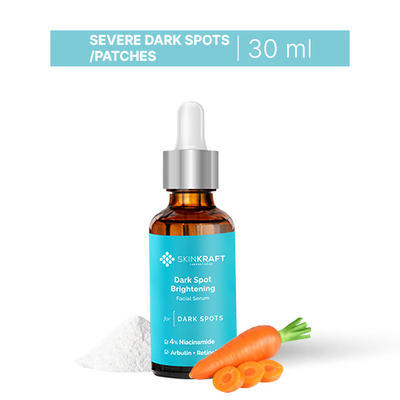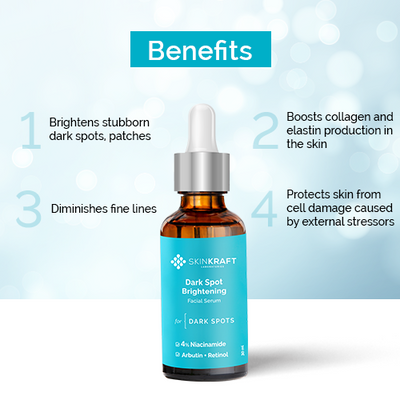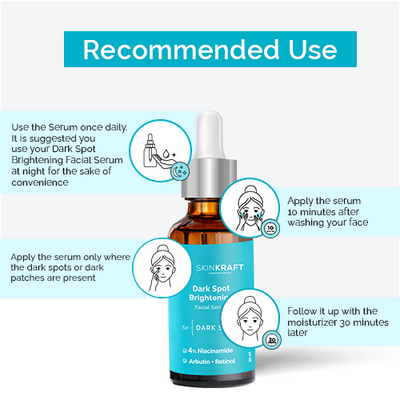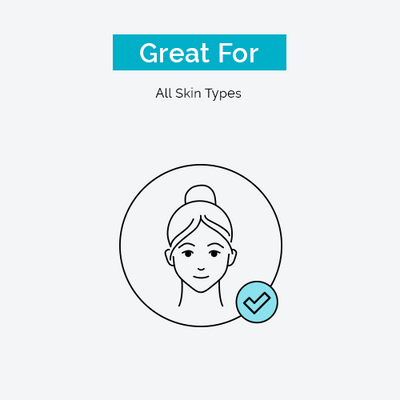 Dark Spot Brightening Serum For Women
30ml
Severe Dark Spots/Dark Patches
Free Of Parabens, Sulfates
Dermatologist Approved
pH Balancing
100% Safe & Effective
Free Shipping Offer Unlocked!
100% Satisfaction Guarantee! Eligible For A Refund If The Product Doesn't Meet Expectations.
Product Description
The Dark Spot Brightening Facial Serum targets stubborn dark spots and patches, while boosting collagen and elastin production for firmer, more youthful-looking skin. The serum also helps protect the skin from cell damage caused by external stressors.
What's inside ?
Here's What Your Serum Is Made Of
Niacinamide
A form of vitamin B3 that helps improve skin texture and reduce the appearance of fine lines and wrinkles.
Alpha Arbutin
Helps provide an even-toned skin by reducing the appearance of dark spots and hyperpigmentation.
Vitamin C
A potent antioxidant that evens out skin tone and boosts collagen production.
Recommended Use
Use the Serum once daily. It is suggested you use your Dark Spot Brightening Facial Serum at night for the sake of convenience
Apply the serum 10 minutes after washing your face
Apply the serum only where the dark spots or dark patches are present
Follow it up with the moisturizer 30 minutes later
Customer Testimonials
After using thai serum from Skinkraft, I really saw a noticeable difference. My skin is glowing now and it is more even-toned. I'm so glad I found this product!
Varshita, Bhopal
This is the only serum that has finally made my acne scars and dark spots fade away. I specially love that it doesn't leave my skin feeling greasy or sticky like some other serums I've tried.
Waheeda, Patna
This serum has really given me such a huge difference in my skin. My dark spots are fading, and my skin looks smoother and clearer now. I'm so happy I gave this product a try!
Yashika T, Agra
FAQs
How often can I use the Dark Spot Brightening Facial Serum?
It is recommended to use this serum once every day, preferably at night.
Can I use the Dark Spot Brightening Facial Serum with other skincare products?
Yes, this serum works best when incorporated into your existing customized SkinKraft skincare routine or used in combination with other SkinKraft products.
How long will a bottle of this serum last?
A 30ml bottle of this serum should last approximately 1 month with daily use.
Is this serum cruelty-free?
Yes, this product is not tested on animals and is cruelty-free.
Here's What Our Customers Say About Us
nice
using from past 6-7 months feels good
I use it everyday and my skin has been looking clear, bright and feeling so smooth."
Nyc for my skin
Suitable for my skin tone
A very good serum for pigmentation."
This serum has really helped me reduce spots. My skin also feels very smooth."
This was the perfect choice for me. It suited my skin well and made my skin has become clear and soft."
Using this serum for a couple of months, my skin looks and feels much better now."
Has made my skin smooth to touch."