SkinKraft
Acne Exfoliating Cream For Men
30ml
11 reviews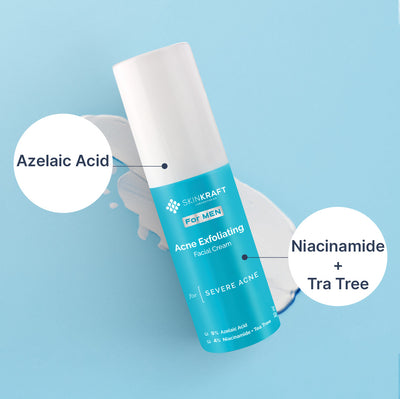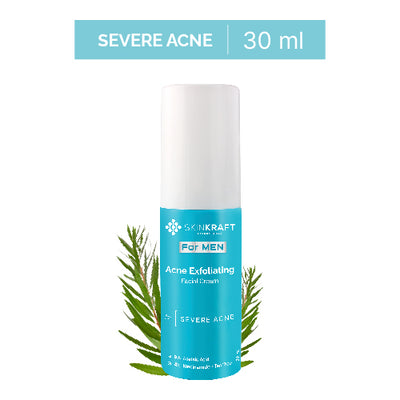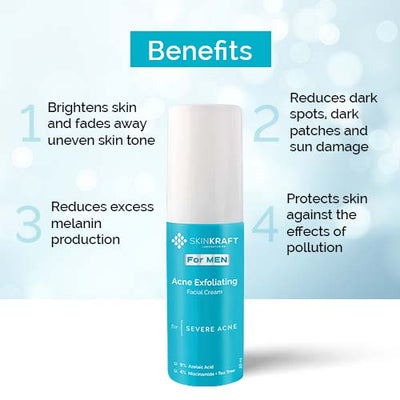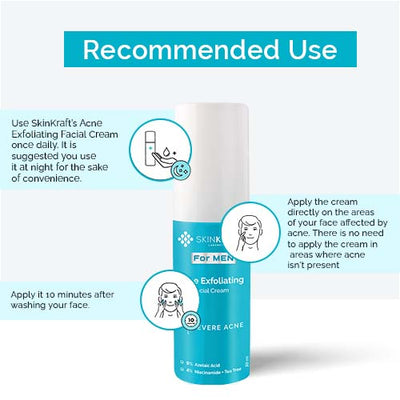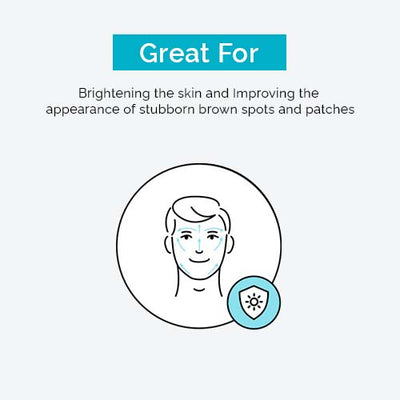 Acne Exfoliating Cream For Men
30ml
Free Of Parabens, Sulfates
Dermatologist Approved
pH Balancing
100% Safe & Effective
Free Shipping Offer Unlocked!
100% Satisfaction Guarantee! Eligible For A Refund If The Product Doesn't Meet Expectations.
Product Description
The Acne Exfoliating Facial Cream is specially formulated to control the development of acne, exfoliate the skin, and protect the skin barrier from dust, pollution and other external stressors.
What's inside ?
Here's What Your Serum Is Made Of
Azelaic Acid
Controls the development of acne and reduces inflammation
Niacinamide
Provides a softer and smoother skin by clearing out clogged pores.
Gluconolactone
Exfoliates the skin and hydrates the skin barrier
Recommended Use
Use SkinKraft's Acne Exfoliating Facial Cream once daily. It is suggested you use it at night for the sake of convenience.
Apply 10 minutes after washing your face.
Apply the cream directly on the areas of your face affected by acne. There is no need to apply the cream in areas where acne isn't present
Customer Testimonials
I've struggled with acne for years, and this product has been a game-changer for me. It's gentle on my sensitive skin but still effective in controlling breakouts.
Irshad Khan, Indore
I was hesitant to try this product at first, but I'm so glad I tried this cream. It's helped reduce the appearance of my acne scars and has made my skin look really smoother overall.
Kishor Yadav, Chennai
I use this product daily, and it's helped keep my acne under control without causing my skin to dry out. It's a great addition to my everyday routine.
Mohit Jadeja, Mumbai
FAQs
How often should I use this cream?
You should use this cream once a day after cleansing your face.
Can this cream be used for severe acne?
Yes, this cream is suitable for severe acne.
Should I use a moisturizer after applying this cream?
Yes, it is recommended to follow up with a moisturizer after applying this cream.
How long does one bottle of this cream last?
One bottle of this cream should last for about 30 days with regular use.
Here's What Our Customers Say About Us
It's great for the pimple marks. I can see that they have faded a little since I start using this cream."
It's help me to reduce my new up growing acne. It is good for reduce acne on face.
It's nice and mild on my face. Does not cause any irritation and has helped my acne marks. Pretty good"
I used this for about a month, and I can see that the spots on my face have gone down. Must-try product for acne marks"
It has reduced my acne quite a bit and my face looks clear and feels smooth now."
This is perfect for my sensitive skin. My red pimple marks have reduced quite a lot and it does not even make my skin feel irritated."
One of the best acne cream!"
It has controlled the acne very well and made my skin clear and smooth."
My face had 4-8 acne which wouldn't go away. But consistently using this cream, the acne has reduced a lot."
This product did not irritate or make my skin rough. Love this product."