SkinKraft
Normal-Dry Skin Moisturizing Gel For Men
40ml
10 reviews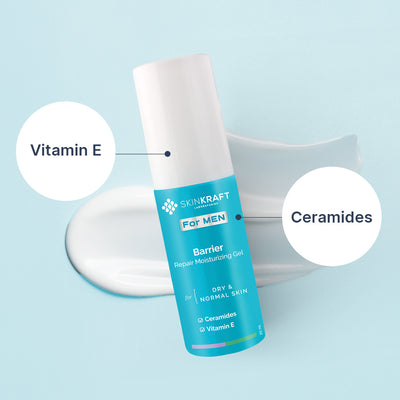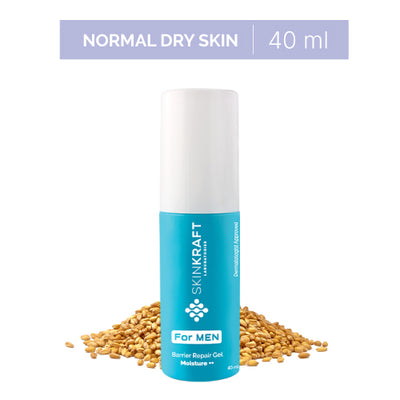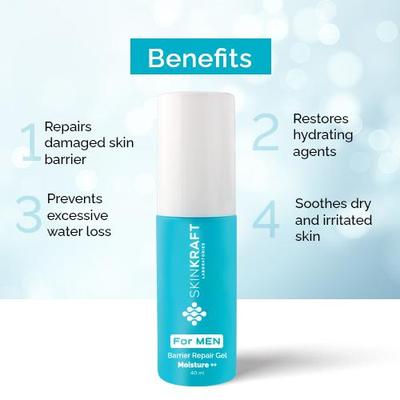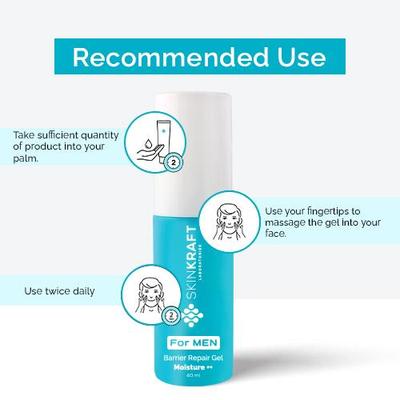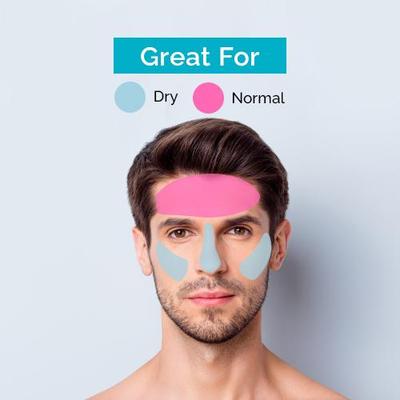 Normal-Dry Skin Moisturizing Gel For Men
40ml
Free Of Parabens, Sulfates
Dermatologist Approved
pH Balancing
100% Safe & Effective
Free Shipping Offer Unlocked!
100% Satisfaction Guarantee! Eligible For A Refund If The Product Doesn't Meet Expectations.
Product Description
The Barrier Repair Moisturizing Gel for Men is designed to help restore damaged skin barriers, boost skin's hydration levels, and prevent excessive water loss. It also soothes dry and irritated skin, leaving it feeling soft and refreshed.
What's inside ?
Here's What Your Moisturizer Is Made Of
Ceramide EOP
Helps to restore and strengthen the skin barrier.
Ceramide AP
Helps to retain moisture and improve the texture of the skin.
Phytosphingosine
Helps to reduce inflammation and redness in the skin.
Recommended Use
Take sufficient quantity of product into your palm.
Use your fingertips to massage the gel into your face.
Use twice daily
Customer Testimonials
I've recommended this product to all my friends and family. It's a must-have product! Especially for those who have dry skin, like I do!
Himesh K, Coimbatore
This moisturizer is perfect for everyday use. It keeps my skin hydrated and looking great. Thank you Skinkraft for this one!
Lalit J, Ahmedabad
I'm so happy I found this moisturizer. It's the best one I've used so far for my dry skin. Skinkraft has really impressed me with this one. I'll definitely re-buy this once mine is done!
Tarun Rao, Kochi
FAQs
What skin type is Barrier Repair Moisturizing Gel suitable for?
The moisturizer is suitable for normal and dry skin.
Is Barrier Repair Moisturizing Gel suitable for men with acne-prone skin?
Yes, the moisturizer is suitable for men with acne-prone skin as it helps to repair the skin barrier and prevent excessive water loss.
When should I use this product?
You can use this product in the morning and at night, right after cleansing your face.
How long will one bottle of Barrier Repair Moisturizing Gel last?
One bottle of the moisturizer is 40ml and should last around 3-4 weeks with regular use.
Can Barrier Repair Moisturizing Gel be used with other skincare products?
Yes, it is recommended to use the moisturizer with your choice of SkinKraft cleanser and active serum.
Here's What Our Customers Say About Us
After so many products my skin doesn't feel rough and dry now. Thanks skinkraft"
It really keeps skin moisturized and soft even in the driest weather. I'm highly satisfied with this product"
I apply it on my face every morning, and I've noticed that my skin feels soft and moisturized even after 5-6 hours."
This gel is perfect for me who have dry/combination skin as it really moisturized the skin and reduces dry patches from the face."
Good product for those who look for extra hydration. Makes the skin very soft and smooth to touch."
Been using this skinkraft moisturizer for 2 months now and I can really feel that my skin has become softer than before and has a glow also. Highly recommend this to others too."
People with skin dryness will really find this product to be perfect."
The gel keeps my skin moisturized throughout the day. It's also very easy to use."
This is a superb moisturizing gel for dry patches. I have seen my dryness reduce each day since I started using this. I highly recommend this product"
A good product by skinkraft. Perfect for deep moisturization. Its also very light on the skin, doesn't make it oily."