SkinKraft
BrightSide Anti-Dull Skin Serum For Men
30ml
10 reviews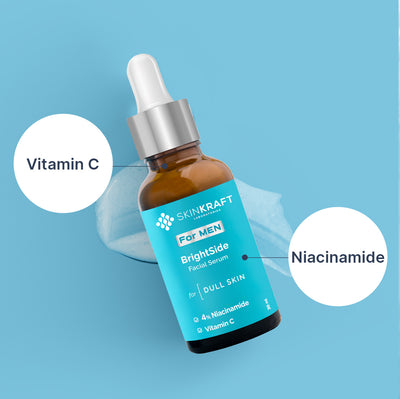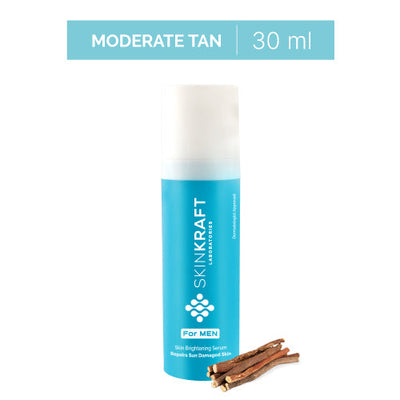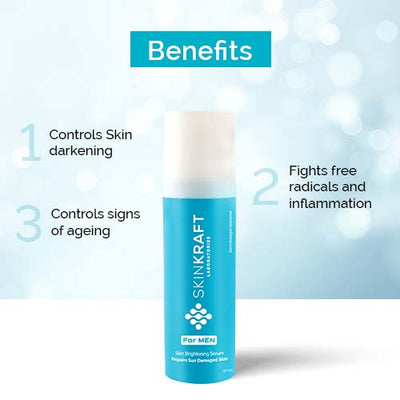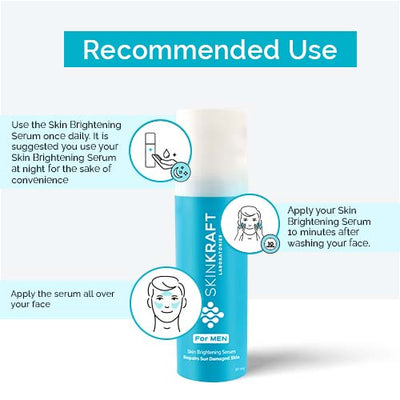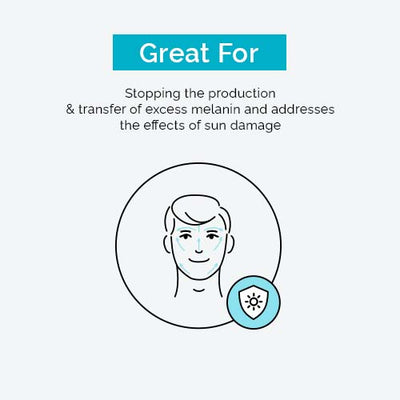 BrightSide Anti-Dull Skin Serum For Men
30ml
Free Of Parabens, Sulfates
Dermatologist Approved
pH Balancing
100% Safe & Effective
Free Shipping Offer Unlocked!
100% Satisfaction Guarantee! Eligible For A Refund If The Product Doesn't Meet Expectations.
Product Description
BrightSide Facial Serum is specially formulated for men to control tanning. With a blend of powerful natural ingredients, this serum helps to even out the skin tone, leaving it looking healthy and refreshed.
What's inside ?
Here's What Your Serum Is Made Of
Licorice
Helps to even out skin tone and reduce the appearance of dark spots.
Niacinamide
Provides a softer and smoother skin by clearing out clogged pores.
Vitamin C
Helps reduce inflammation and hyperpigmentation. Also protects the skin from free radical damage.
Recommended Use
Use the Skin Brightening Serum once daily. It is suggested you use this serum at night for the sake of convenience
Apply your Skin Brightening Serum 10 minutes after washing your face.
Apply the cream all over your face
Customer Testimonials
I've been using BrightSide Facial Serum for months now, and I have received so many compliments on my clearer skin. My skin looks brighter than before. I like this product
Himanshu, Hyderabad
Since using this serum, my skin looks really youthful and refreshed, and I feel happy that I found this product.
Jitin Ahuja, Delhi
I love that BrightSide Facial Serum feels lightweight and absorbs quickly, leaving my skin feeling soft and smooth.
Lalit Khanna, Noida
FAQs
What skin types is the BrightSide Facial Serum suitable for?
The BrightSide Facial Serum is suitable for all skin types.
How often should I use the BrightSide Facial Serum?
You can use the BrightSide Facial Serum twice a day, in the morning and at night.
Can the BrightSide Facial Serum be used as a moisturizer?
No, the BrightSide Facial Serum is not a moisturizer. It is recommended to use a moisturizer after applying the serum.
Can the BrightSide Facial Serum be used on sensitive skin?
Yes, the BrightSide Facial Serum can be used on sensitive skin.
Here's What Our Customers Say About Us
I'm really satisfied with this serum. I saw my skin get bright and clear."
Awesome product! I am so happy that I have clear and bright. I recommend this to everyone."
Glad I found this serum, it is perfect to remove the tan."
Perfect for my skin pigmentation.
This serum was perfect to reduce the tan from my face. My skin looks so clear and smooth now."
It makes my face feel quite smooth, my face also feels very fresh! Happy with my serum, thanks skinkraft!"
PROS:
Makes the skin smooth and bright
Affordable price
Easy and fast delivery

CONS:
None that I can think of"
I Will keep using it as it makes my skin feel soft and smooth."
Skinkraft is my favorite. This serum works very well on my skin."
No matter what, I made it a point to apply this serum on my face every day… My skin has been looking really smooth and clear because of it!"
Have been using this serum for almost a month now and my skin looks more fresh and soft than before."