SkinKraft
Dark Spot Depigmentation Serum For Women
30ml
13 reviews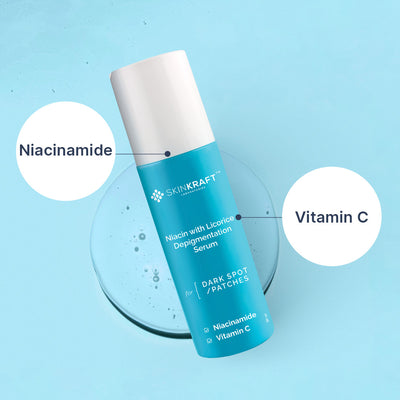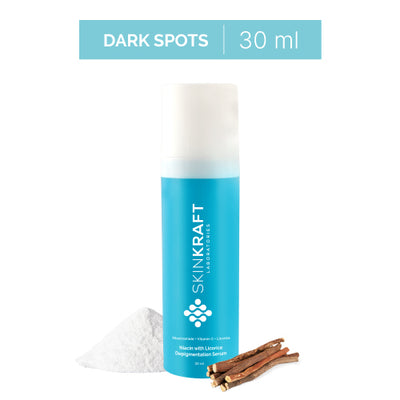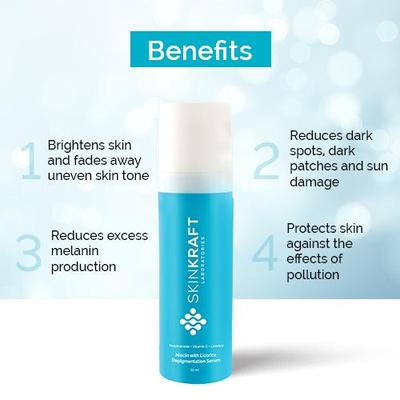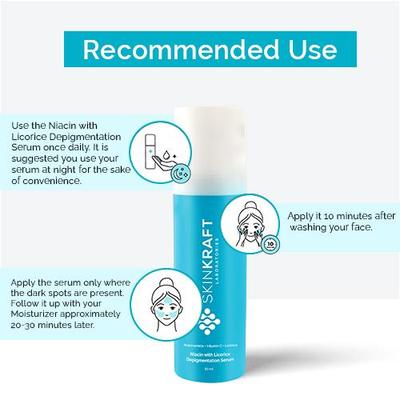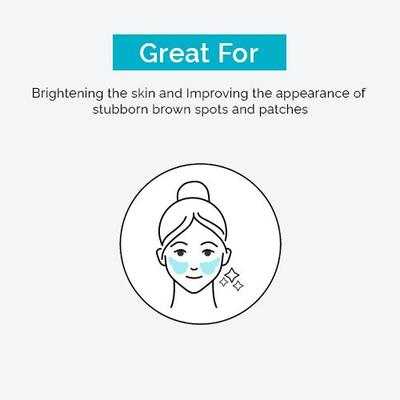 Dark Spot Depigmentation Serum For Women
30ml
Dark Spots / Patches (12-18yrs)
Free Of Parabens, Sulfates
Dermatologist Approved
pH Balancing
100% Safe & Effective
Free Shipping Offer Unlocked!
100% Satisfaction Guarantee! Eligible For A Refund If The Product Doesn't Meet Expectations.
Product Description
Get an even-toned skin and reduce dark spots and patches with the Niacin With Licorice Depigmentation Serum. This serum helps control excess melanin production and protects skin against the harmful effects of pollution.
What's inside ?
Here's What Your Serum Is Made Of
Niacinamide
Helps improve skin texture and reduce the appearance of scars and hyperpigmentation.
Vitamin C
Helps reduce inflammation and hyperpigmentation. Also protects the skin from free radical damage.
Licorice
Controls excess melanin production and helps reduce the appearance of dark spots and patches
Recommended Use
Use the Niacin with Licorice Depigmentation Serum once daily. It is suggested you use your serum at night for the sake of convenience.
Apply it 10 minutes after washing your face.
Apply the serum only where the dark spots are present. Follow it up with your Moisturizer approximately 20-30 minutes later.
Customer Testimonials
I've been using this serum for a few months now and my skin is much brighter and more even. It's gentle on my skin and seeps into my skin very well. Highly recommend it
Parineeti, Delhi
I have a lot of sun damage and dark spots from years of tanning. This serum has helped fade those spots and makes my skin feel really smooth too. I highly recommend it.
Neha Quinn, Surat
I love this serum! It's lightweight and absorbs quickly, and I've noticed that my dark spots and hyperpigmentation has really gone down a lot. Go for this one!
Reshmi T, Ahmedabad
FAQs
How often should I use Niacin with Licorice Depigmentation Serum?
It is recommended to use the serum once daily, preferably at night.
Can I use Niacin with Licorice Depigmentation Serum on sensitive skin?
Yes, the serum is formulated with gentle ingredients and can be used on sensitive skin. However, it is recommended to do a patch test before use.
Can I use Niacin with Licorice Depigmentation Serum with other skincare products?
Yes, this serum works best with your customized SkinKraft regimen.
Is this serum cruelty-free?
Yes, this product is not tested on animals and is cruelty-free.
Here's What Our Customers Say About Us
Must by nice product
I use this product since 2 years for depigmentation. I get best result. Thank you skinkraft
I never thought I'd repurchase a skincare product but here we are! This serum has been the best thing for my dull and pigmented skin"
Nice products
Easy to use , nice products
If you have dark spots, then give this serum a try. It has helped my skin a lot."
Was actually very helpful for the dark spots on my cheeks and nose. Will need to keep using it more to get the skin I'm looking for."
My favorite serum out of all the products I tried. Makes my skin look bright and glowing. Love it."
Owesome products by skinkraft.
It suited my skin very well.i feel very proud by seeing my skin
My skin looks clear after I started using it. Quite impressed with this serum."
Makes my skin look bright and radiant! Must try product"
The best serum I've used! after using this serum my skin looks so clear and smooth,"