SkinKraft
Severe Tan Plumping Serum For Women
30ml
10 reviews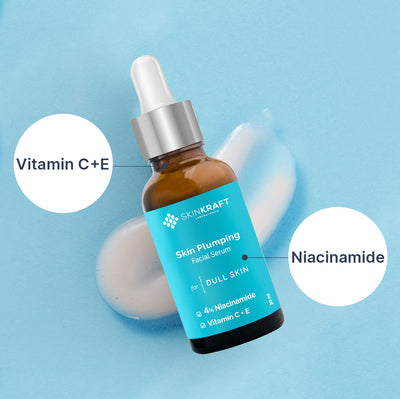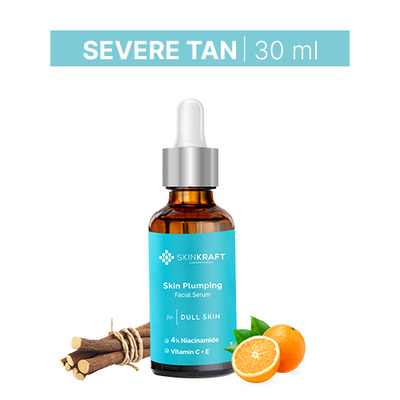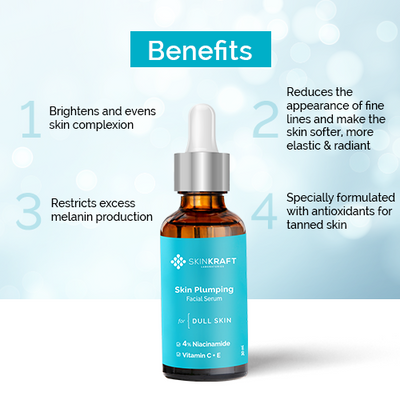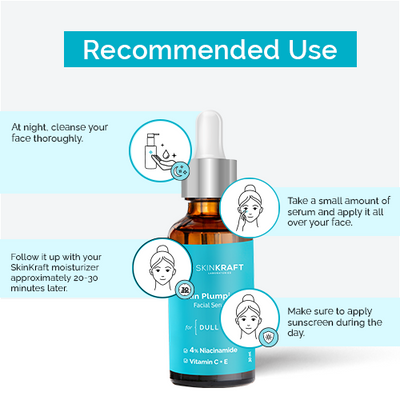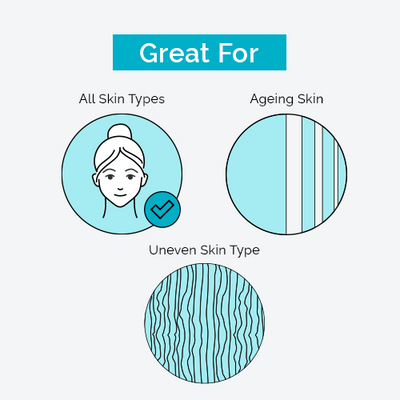 Severe Tan Plumping Serum For Women
30ml
Free Of Parabens, Sulfates
Dermatologist Approved
pH Balancing
100% Safe & Effective
Free Shipping Offer Unlocked!
100% Satisfaction Guarantee! Eligible For A Refund If The Product Doesn't Meet Expectations.
Product Description
The Skin Plumping Facial Serum is formulated to provide an even-toned skin while reducing the appearance of fine lines. The serum is specially formulated to restrict excess melanin production. With regular use, this serum will leave your skin soft, plumpy, and radiant.
What's inside ?
Here's What Your Serum Is Made Of
Vitamin E
An antioxidant that helps protect the skin from damage caused by UV rays and pollution, and promotes skin healing.
Peptide
A small chain of amino acids that can penetrate the skin and help to stimulate collagen production, resulting in firmer, more elastic skin.
Licorice
Helps reduce the appearance of dark spots and hyperpigmentation.
Recommended Use
At night, cleanse your face thoroughly.
Take a small amount of serum and apply it all over your face.
Follow it up with your SkinKraft moisturizer approximately 20-30 minutes later.
Make sure to apply sunscreen during the day.
Customer Testimonials
I started using this on my friend's suggestion and I'm so glad I did. I love that it's made with natural ingredients and it really makes my skin feel bouncy and glowing
Zabreen Shah, Nagpur
I've tried a lot of different serums, but this one is by far my favorite. It leaves my skin feeling so soft and plump, and I've definitely noticed less fine lines!! Go for it, everyone!
Anahita Chakroborty, Kochi
One thing I love about this serum is that It absorbs quickly and doesn't leave any greasy feeling. My skin feels smoother and more hydrated since I started using it.
Bhoovika R, Puducherry
FAQs
How often should I use the Skin Plumping Facial Serum?
For best results, you should use the serum once a day, preferably at night.
Can I use this serum on oily skin?
Yes, this serum is suitable for all skin types, including oily skin.
Can I use this serum on my neck and chest?
Yes, this serum can be used on your neck and chest as well as your face.
How long will one bottle of this serum last?
One bottle of this serum should last around 1 month with daily use.
Here's What Our Customers Say About Us
This was my first time trying a serum and amazed by how well it worked for me. Really made my skin very soft and smooth."
Perfect for rough skin. My skin feels very hydrated after using this serum."
This serum made my skin very hydrated and it is very light on the skin too."
Good serum for tan. It feels so smooth and soft to touch every day."
My skin doesn't feel dry and tight after using this serum."
Amazing serum for my skin."
This has really suited me so well."
My skin loved this serum. It really made my skin smooth and hydrated. This is a good anti-ageing serum."
I've been getting compliments from my family after I started using this serum! It really made my rough and dull skin look so smooth and healthy!"
This serum is my most favorite product now! I've recommended it to all my friends too!"