SkinKraft
Dry Skin Moisturizing Cleanser For Women
60ml
20 reviews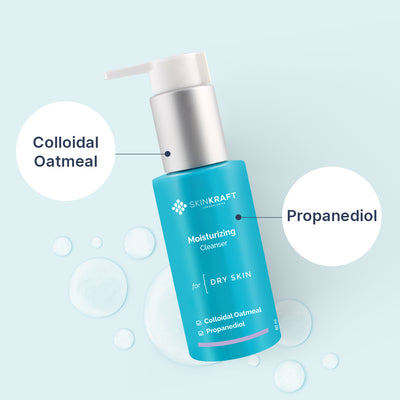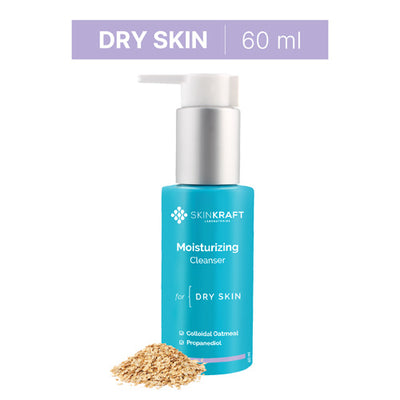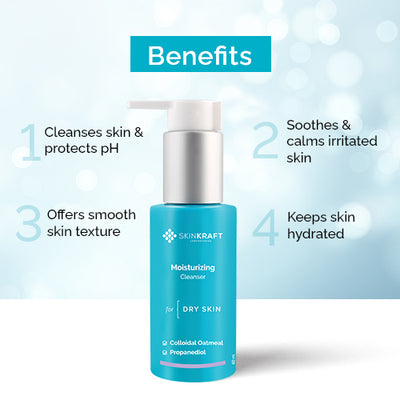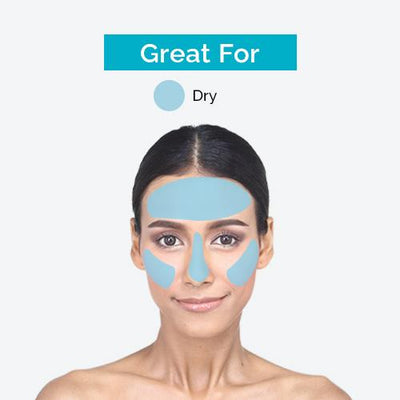 Dry Skin Moisturizing Cleanser For Women
60ml
Free Of Parabens, Sulfates
Dermatologist Approved
pH Balancing
100% Safe & Effective
Free Shipping Offer Unlocked!
100% Satisfaction Guarantee! Eligible For A Refund If The Product Doesn't Meet Expectations.
Product Description
The Moisturizing Cleanser gently cleanses the skin while maintaining the skin's pH balance. This formula deeply hydrates the skin and offers a smooth texture, preventing any dryness and flakiness.
What's inside ?
Here's What Your Moisturizing Cleanser Is Made Of
Colloidal Oatmeal
Helps balance the skin's natural pH levels while locking in moisture. It also prevents skin dryness
Propanediol
Avoids skin damage by preventing water loss from the skin
Polyquaternium
Provides hydration and has forming properties that help spread the rest of the ingredients evenly throughout the skin.
Recommended Use
Wash your face twice a day with SkinKraft's Moisturizing Cleanser.
Take 1 pump of the cleanser into your palm and work into a lather.
Massage onto face in gentle circular motions and wash off with cold or lukewarm water
Customer Testimonials
This is my favorite cleanser I have used so far. It really makes my skin soft and smooth. Best part is that I do not feel any dryness after washing my face. Perfect product at a very good price too.
Kaamini Yadav, Delhi
This cleanser was so good. It never dried out my face like other ones I tried. I am definitely going to re-buy this product again.
Yogita Reddy, Hyderabad
It is really gentle and actually made my skin super soft and fluffy! I feel no dryness whatsoever after using this cleanser that's why I love it so much.
Juveria, Kolkata
FAQs
Can the cleanser be used for dry skin?
Yes, this cleanser is ideal for dry skin types. In case of slightly dry to normal skin, a cleanser made for normal-dry skin should be selected.
Can this cleanser be used for acne?
Yes, if your skin type is very dry, you can use this cleanser for acne.
What is the pH balance of the product?
5.5-6 same as the skin's pH level, so this cleanser does not make the skin tight or dry
Does it remove makeup?
No, the cleanser does not remove makeup.
Does it contain Paraben?
The cleanser is free of 24 toxic ingredients like Parabns, SLS, Formaldehyde etc.,
Here's What Our Customers Say About Us
100 work ❤️❤️❤️❤️❤️❤️❤️❤️
Ohhh omg nice product love you ♥️♥️♥️♥️
My journey with Skinkraft
These pictures will show you how Skinkraft suits me , first pic is of two days after using these products, then second one is after two weeks and last one in which my skin becomes totally good was of almost 4 weeks of using Skinkraft. Actually I take the same questionnaire before buying it . Then they suggest me the acne one in which there is one cleanser then a cream then a acne barriers cream and a free night serum . Totally happy with Skinkraft ..and now today I have purchased the face kit of it .
Excellent excellence
Muje apne face pr ye Prodect bhut hi acha lga pehele to thoda daane aaye pr fir thik ho gya or face ke nishan bi jaane lage abi Puri tarah se thik nhi hua he kyu ki abi muje uj krte 1 month hi hua he baakinto 3 month baad pta chalega
Very superb product. Must use this
Good product.this cleanser suit in my dry skin.its works very well.
Very mild on the face. Makes the skin smooth and soft to touch."
Love this product. The only face wash that doesn't make my face feel tight after use. Just love it."
Perfect for my face. This was the only cleanser that made my skin feel soft after using."