SkinKraft
Strengthen & Restore Hairfall Oil For Oily Hair
200ml
10 reviews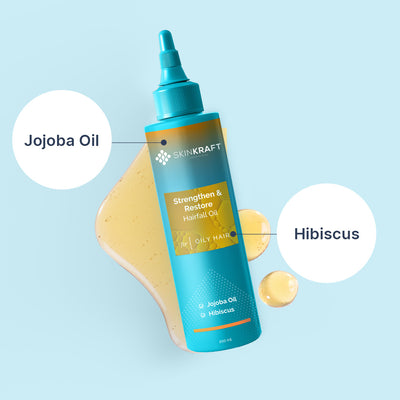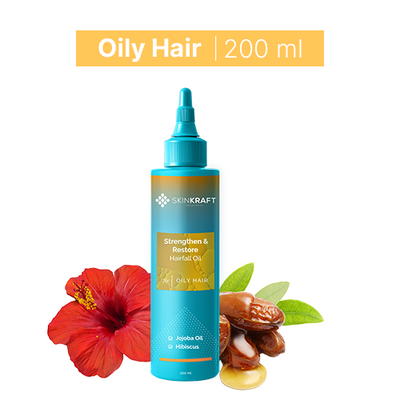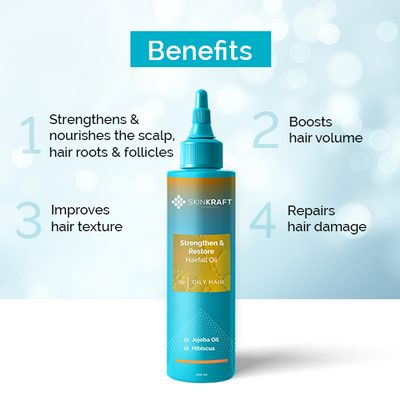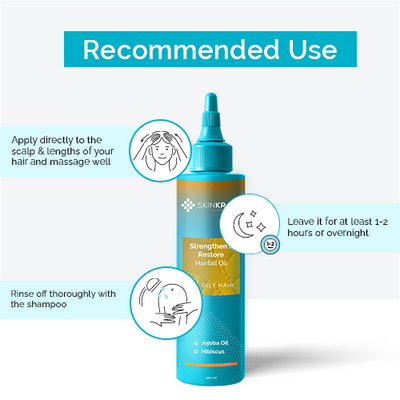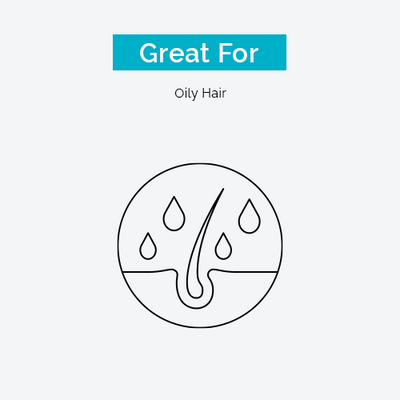 Strengthen & Restore Hairfall Oil For Oily Hair
200ml
Free Of Parabens, Sulfates
Dermatologist Approved
pH Balancing
100% Safe & Effective
Free Shipping Offer Unlocked!
100% Satisfaction Guarantee! Eligible For A Refund If The Product Doesn't Meet Expectations.
Product Description
This nourishing hair oil strengthens hair from the roots and promotes hair growth. Its natural ingredients help restore damage, prevent hair breakage, and control premature graying.
What's inside ?
Here's What Your Hair Fall Oil Is Made Of
Jojoba Oil
Deeply conditions hair, adds shine and promotes hair growth.
Hibiscus
Contains natural alpha-hydroxy acids that exfoliate the scalp for healthier, stronger hair.
Coconut Oil
Deeply moisturizes hair prevents breakage and provides smoother, silkier hair.
Recommended Use
Apply directly to the scalp & lengths of your hair and massage well
Leave it for at least 1-2 hours or overnight
Rinse off thoroughly with the shampoo
Customer Testimonials
My hair feels very silky and bouncy each time I use this oil. It is probably the best hair product I've used till date. I highly recommend this product to women with all types of hair.
Sharanya Mohit, Bhopa
This has reduced my hair fall a lot!! I'm definitely going to be using this oil regularly before I wash my hair! Thanks for this amazing oil skinkraft!
Anagah Walia, Ahmedabad
I will say that it is a very good hair oil by Skinkraft. On applying it on hairs it gets absorbed well and does feel greasy. It nourishes the hair really well so I'm happy with my purchase.
Rishika Arora, Hyderabad
FAQs
How often should I use this hair oil?
For best results, use the oil at least once a week.
Can I use the oil on color-treated hair?
Yes, the oil is safe to use on color-treated hair.
How much oil should I use for each application?
Use 1-2 tablespoons of oil, depending on the length and thickness of your hair.
Is the oil suitable for all hair types?
Yes, the oil is suitable for all hair types, including curly, straight, and wavy hair.
Is this oil paraben-free?
Yes, this oil is free from parabens, sulfates(SLS, SLES), and 24 other red-listed ingredients.
Here's What Our Customers Say About Us
I love this skinkraft product as this oil has made me fall in love with my hair again.
Love this product. Makes my hair so shiny, smooth and healthy, highly recommend it.
I have been using it for about two weeks. I found it works out on my oily hair. It is a good product for the hair.
This skinkraft oil makes my hair look so good. I use it before washing my hair every time. Love it!
I highly recommend this oil for those who have oily hair. Makes the hair really smooth and soft to touch.
Thank you Skinkraft for this product, it is perfect for my hair. It works perfectly on my hair and makes my it look amazing.
Simply amazing! I have oily hair and this is a blessing for me. Works so well.
Just love the results of this product. It is very good. I recommend you all to try it once.
My hair is so oily that I always avoided using oil, but this oil by Skinkraft is sooo good!
My damage has been reduced so much. Thanks to this oil.