SkinKraft
Dull Skin Rejuvenating Serum For Men
30ml
9 reviews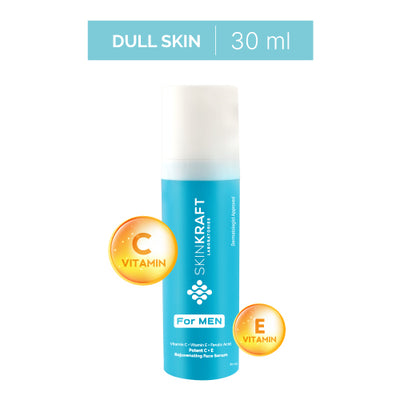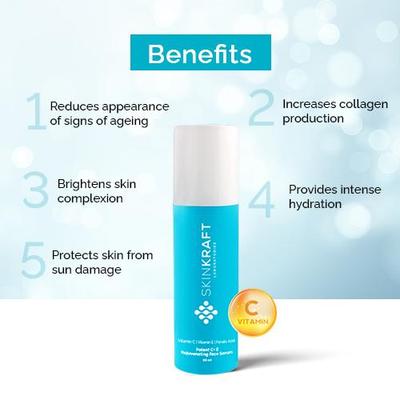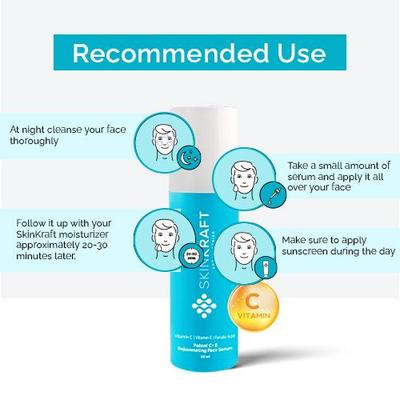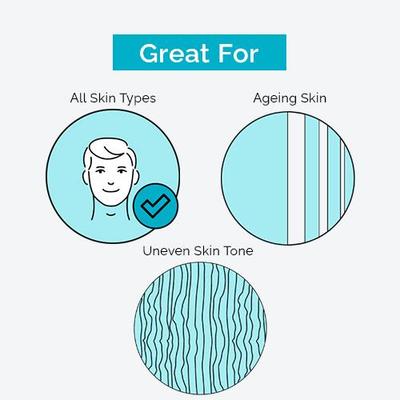 Dull Skin Rejuvenating Serum For Men
30ml
Free Of Parabens, Sulfates
Dermatologist Approved
pH Balancing
100% Safe & Effective
Free Shipping Offer Unlocked!
100% Satisfaction Guarantee! Eligible For A Refund If The Product Doesn't Meet Expectations.
Product Description
The Rejuvenating Face Serum is great for reducing the appearance of signs of aging as it helps increase collagen production of the skin, provides intense hydration, and provides a softer, plump skin.
What's inside ?
Here's What Your Serum Is Made Of
Vitamin C
A potent antioxidant that evens out skin tone and boosts collagen production
Vitamin E
Another powerful antioxidant that helps protect against environmental stressors and promotes skin healing
Green Tea
Its antibacterial and anti-inflammatory properties reduce inflammation, giving you clearer, smoother skin.
Recommended Use
At night cleanse your face thoroughly
Take a small amount of serum and apply it all over your face
Follow it up with your SkinKraft moisturizer approximately 20-30 minutes later.
Make sure to apply sunscreen during the day
Customer Testimonials
This serum has really boosted my skin's hydration. My skin really feels soft each time I use it. It absorbs quickly without leaving any residue. Good product by Skinkraft.
Bhaskar Sinu, Pune
I'm on my 2nd bottle of this serum. I love how smooth and clear my skin looks ever since I started using it. I highly recommend it.
Naresh Chinta, Ahmedabad
I have sensitive skin and was hesitant to try a new serum, but this one has been great. It doesn't irritate my skin at all and has helped reduce some of my acne scarring.
Dharmender T, Agra
FAQs
Can this serum be used on all skin types?
Yes, this serum is suitable for all skin types.
Can I use this serum with other skincare products?
Yes, you can use this serum with other SkinKraft skincare products. It is recommended to apply the serum first and then follow up with your SkinKraft moisturizer.
How long does a bottle of this serum typically last?
A 30ml bottle of this serum should last about 1 month with regular use.
Should I apply this serum to my neck as well?
Yes, you can apply this serum to your neck as well for similar benefits.
Does this product contain parabens?
No, this product is free from parabens, sulfates & 24 other red-listed ingredients.
Here's What Our Customers Say About Us
Very effective against dryness. Keeps my skin hydrated throughout the day"
This serum has been very effective in improving my complexion and giving an even skin tone"
So glad I found this product. I had uneven skin tone for a really long time and since i started using this I noticed how effective this serum is in helping with this issue"
This serum has now become a permanent part of my everyday skincare routine. It has been so efficient in reducing wrinkles and giving a brighter look to my face"
Using this serum gave my face a brighter look. Not only that but it also keeps my skin from drying out and helps it stay hydrated"
Non-sticky formula. Very good and effective for uneven skin tone. My skin has visibly brightened, the Vitamin C is really potent"
This serum is now a permanent part of my daily skincare routine. It is so effective against uneven skin tone and it has also brightens my skin complexion"
This Vitamin C serum is really potent. It keeps my skin hydrated and prevents drying. It also helps prevent my skin from sun damage"
This Vit C is really powerful.. I've been using it for weeks and it has brightened my skin tone"