SkinKraft
Overnight Serum For Radiant Smooth Skin
10ml
11 reviews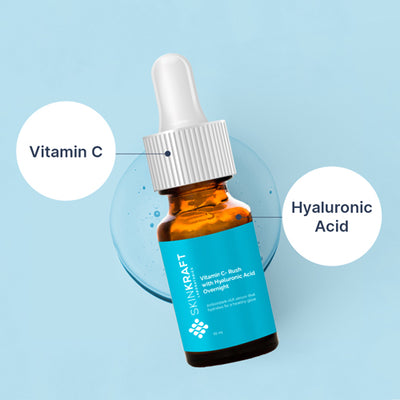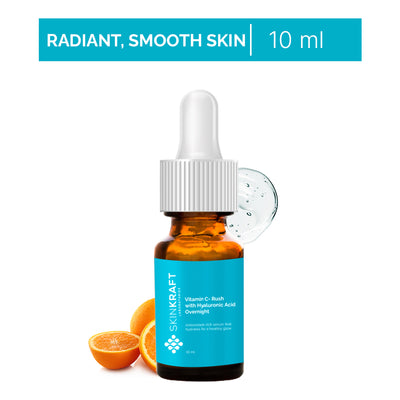 Overnight Serum For Radiant Smooth Skin
10ml
Free Of Parabens, Sulfates
Dermatologist Approved
pH Balancing
100% Safe & Effective
Free Shipping Offer Unlocked!
100% Satisfaction Guarantee! Eligible For A Refund If The Product Doesn't Meet Expectations.
Product Description
Wake up to smoother and healthier-looking skin with the Vitamin C Rush With Hyaluronic Acid Overnight Serum. Packed with potent antioxidants, this serum hydrates the skin and helps clear dark patches for clear and smooth skin.
What's inside ?
Here's What Your Serum Is Made Of
Vitamin C
A powerful antioxidant that brightens and evens out skin tone.
Hyaluronic Acid
Hydrates and plumps up the skin, reducing the appearance of fine lines and wrinkles.
Lemon Peel Oil
Has astringent and antiseptic properties that help firmer and brighter-looking skin.
Recommended Use
At night, Apply a small amount of serum after cleansing the face
Gently massage all over the face
Follow it up with a moisturizer around 20-30 minutes later
Customer Testimonials
This serum is really good for dull skin. I used this for over a month and I can really see a glow on my face nowadays. 10/10 recommend this one!
Preiti, Delhi
Was looking for a lightweight serum for daily use. Glad I gave this a try. It really made my skin super soft and glowing. Will re order this one for sure.
Kantha, Bangalore
This is a good product by skinkraft. I liked this formula a lot. Been using for a while now and I can really see that my skin is more bouncy and firm now. Go for this one everyone!
Janani, Pune
FAQs
How often should I use the Vitamin C Rush With Hyaluronic Acid Overnight Serum?
It is recommended to use it once every day, at night.
Is the serum suitable for all skin types?
Yes, the serum is suitable for all skin types.
Can I use the serum with other skincare products?
Yes, you can use the serum in combination with other SkinKraft products like a cleanser and a moisturizer.
Is the serum cruelty-free?
Yes, the serum is cruelty-free.
How long will a bottle of this serum last?
A bottle of this serum should last approximately 1 month with daily use.
Here's What Our Customers Say About Us
This product is sooo good, it makes my skin moisturized and smooth that too all day long.
One of the best hydrating serums available in the market.
I had a few dark spots and really dry skin. I use this serum every night and I can see a change in my skin.
No serum has made my skin feel this smooth.
Love this serum, it is amazing and works so well.
This skinkraft night serum is really good. Love it!
This serum has made my skin clear and smoother. Love this product.
I highly recommend this serum for those who want a clear and hydrated skin
I apply this serum every night before going to sleep and the results are superb. My skin feels so smooth and glowing in the morning.