SkinKraft
Acne Shield Cleanser For Oily Skin
60ml
1 reviews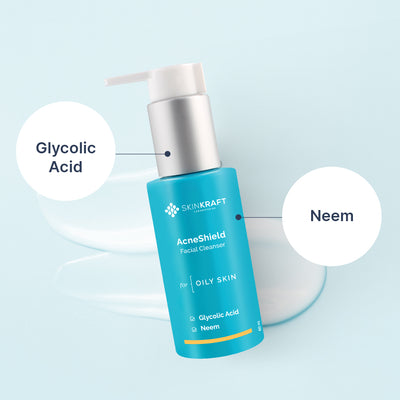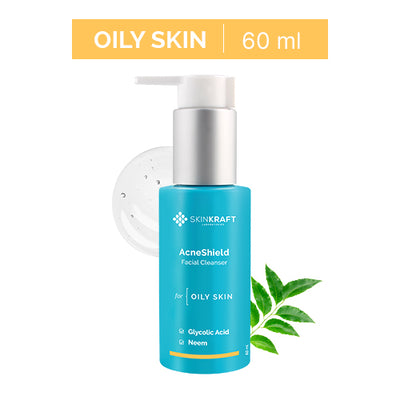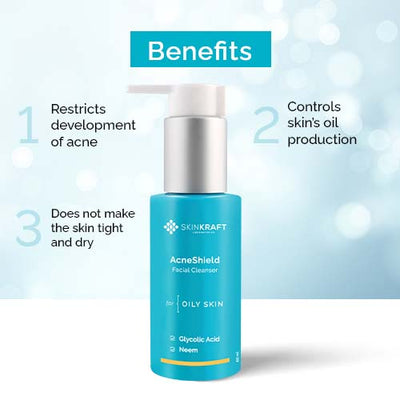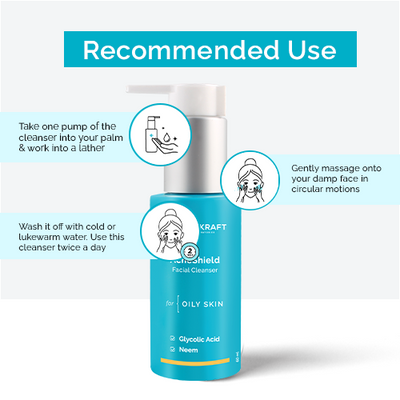 Acne Shield Cleanser For Oily Skin
60ml
Free Of Parabens, Sulfates
Dermatologist Approved
pH Balancing
100% Safe & Effective
Free Shipping Offer Unlocked!
100% Satisfaction Guarantee! Eligible For A Refund If The Product Doesn't Meet Expectations.
Product Description
This pH-balanced facial cleanser is designed for oily skin and helps to regulate excess oil production and shine. With gentle exfoliation, it clears clogged pores and restricts further development of acne.
What's inside ?
Here's What Your AcneShield Facial Cleanser Is Made Of
Glycolic Acid
Gently exfoliates the skin, removes dead cells, and provides even-toned skin. It also helps to reduce the appearance of acne scars and blemishes.
Aloe Vera
Helps effectively hydrate the skin. It has antibacterial properties that help control and reduce acne-causing bacteria.
Neem
Soothes irritated skin by reducing redness and inflammation.
Recommended Use
Take 1-2 pumps of the cleanser into your palm & work it into a lather. Gently massage onto your face in circular motions.
Wash it off with cold or lukewarm water.
Customer Testimonials
I had a lot of trouble with pimples. Plus my oily skin caused it more. But this product was just the thing I needed. Made my skin really clear and soft. I highly recommend it.
Jhanvi Khanna, Kolkata
Great for acne prone skin. It really helped me keep my acne in check. Best part is that its really mild on my skin.
Komal P, Jaipur
I just love this cleanser! It is so gentle and works really well for my skin. I'm definitely going to buy this again.
Lavanya Rao, Hyderabad
FAQs
Can the cleanser be used for oily skin?
Yes, this cleanser is best suited for oily skin types.
What is this cleanser best used for?
This cleanser is perfect for providing a thorough cleansing to unclog pores and restrict further development of acne.
What is the pH balance of the product?
5.5-6 same as the skin's pH level, so this cleanser is perfectly mild for daily use.
Does it remove makeup?
No, the cleanser does not remove makeup.
Does it contain Paraben?
The cleanser is free of 24 toxic ingredients like Parabens, SLS, Formaldehyde, etc.,
Here's What Our Customers Say About Us