SkinKraft
Dry Skin AcneShield Cleanser
60ml
10 reviews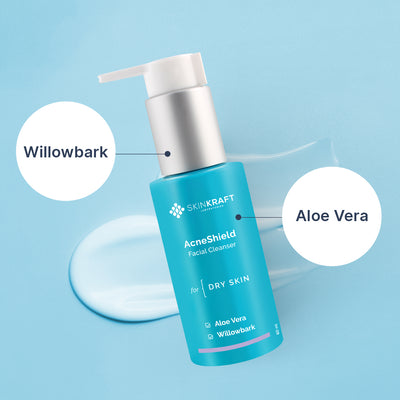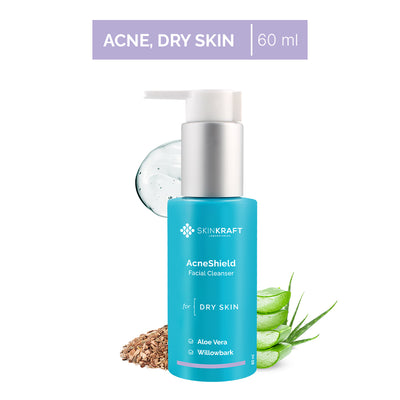 Dry Skin AcneShield Cleanser
60ml
Free Of Parabens, Sulfates
Dermatologist Approved
pH Balancing
100% Safe & Effective
Free Shipping Offer Unlocked!
100% Satisfaction Guarantee! Eligible For A Refund If The Product Doesn't Meet Expectations.
Product Description
Keep your skin balanced, clear, and smooth with this pH-balancing cleanser. It effectively removes dead skin cells, reduces the development of acne and pimples, and nourishes your skin without making it tight or dry. Leaves the skin feeling soft and hydrated.
What's inside ?
Here's What Your AcneShield Cleanser Is Made Of
Aloe Vera
Helps effectively hydrate skin that is dry or sensitive skin. It also has antibacterial properties that help control and reduce acne-causing bacteria.
Willowbark
Contains natural salicylic acid content that helps gently exfoliate the skin and unclog pores, leaving skin looking clearer and smoother.
Colloidal Oatmeal
Soothes and calms irritated skin. Helps remove dirt and oil without stripping the skin of its natural moisture.
Recommended Use
Take 1-2 pumps of the cleanser into your palm & work it into a lather
Gently massage onto your face in circular motions
Wash it off with lukewarm water
Customer Testimonials
This is the only cleanser that did not irritate my pimples or cause redness. I love that it's super mild. It's the best I've used on my skin!
Garima M, Indore
This has really helped me keep my pimples in check. I loved the product and I will definitely buy it again.
Meher Khan, Bangalore
My skin always feels really soft after I use this. Good for my skin type. Doesn't make skin dry. Go for it.
Shabana K, Agra
FAQs
Can the cleanser be used for dry skin?
Yes, this cleanser is ideal for dry skin.
Can this cleanser be used for acne?
Yes, if your skin type is dry, you can use this cleanser for acne.
What is the pH balance of the product?
5.5-6 same as the skin's pH level, so this cleanser does not make the skin tight or dry.
Does it remove makeup?
No, the cleanser does not remove makeup.
Does it contain Paraben?
The cleanser is free of 24 toxic ingredients like Parabns, SLS, Formaldehyde etc.,
Here's What Our Customers Say About Us
Good product. really helped with my breakout
this was great for my pus filled pimples. Very soothing, go for this one guys
Perfect for acne spots. it even stops pimples from getting irritated. 9.5/10 product
Never thought I could find a perfect product made just for my skin. SkinKraft once again nailed it.
This product is so safe and gentle on my dry skin. Every time I clean my face with this, it looks smooth and fresh!
Feels so soft and hydrated. My skin does not look dry, I just have to use this Cleanser twice a day and my skin is sorted.
My skin doesn't look dry anymore. It has never felt so smooth and soft.
Great product. Got amazing results on my skin type.
My skin no longer has dry patches after face wash. The acne also is no longer red and inflamed.
The cleanser makes my skin so smooth! It has also reduced my acne. Just love this cleanser for my skin.