SkinKraft
Ultra Rich Moisturizer For Dry Skin
45ml
12 reviews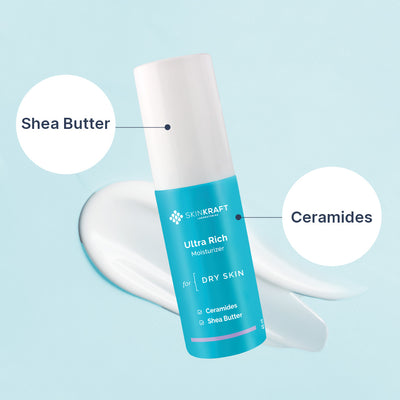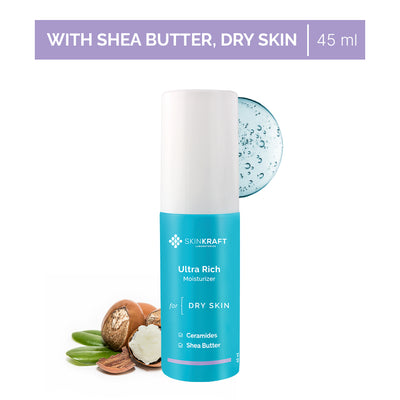 Ultra Rich Moisturizer For Dry Skin
45ml
Free Of Parabens, Sulfates
Dermatologist Approved
pH Balancing
100% Safe & Effective
Free Shipping Offer Unlocked!
100% Satisfaction Guarantee! Eligible For A Refund If The Product Doesn't Meet Expectations.
Product Description
Our Ultra Rich Moisturizer is the perfect moisturizer for everyday use. It provides intense hydration and nourishment to the skin by penetrating deep into the skin and nourishing it from within.
What's inside ?
Here's What Your Moisturizer Is Made Of
Ceramide EOP
Helps to restore and strengthen the skin barrier.
Ceramide AP
Helps to retain moisture and improve the texture of the skin.
Shea Butter
Helps deeply hydrate and nourish dry skin.
Recommended Use
Use 3-4 pumps of the lotion all over your face
Use your fingertips to gently massage it into your face
At night, use it 30 minutes after using your active/issue cream
Customer Testimonials
I loved that this moisturizer did not make my skin feel greasy after use. The best part is that it actually gives very long lasting hydration to my dry skin.
Anita Pandey, Chennai
Been using this moisturizer from Skinkraft for a few weeks now, and I must say I'm impressed. It really made my skin very soft to touch. I'll definitely be buying this one again!
Anmol Singh, Ludhiana
This moisturizer is perfect for those who have dry skin. It worked better than many brands I previously used. I'd say go for this if you are on the hunt for the perfect dry skin moisturizer.
Viraal Ahuja, Mumbai
FAQs
How does Ceramide EP help the skin?
Ceramide EP repairs and strengthens the skin barrier, which helps to prevent moisture loss and keeps your skin hydrated.
Can the Ultra Rich Moisturizer be used during the day?
Yes, our Ultra Rich Moisturizer can be used during the day as well as at night.
How long will one bottle of Ultra Rich Moisturizer last?
One bottle of the moisturizer is 45 ml and should last around 3-4 weeks with regular use.
When should I use the Ultra Rich Moisturizer at night?
Use it 30 minutes after using your active/issue cream at night.
Is the Ultra Rich Moisturizer tested on animals?
No, our Ultra Rich Moisturizer is not tested on animals.
Here's What Our Customers Say About Us
Moisturizer
Barrier restorative lotion for women for sensitive skin is the best that I have ever used
My skin is so moisturized after using this SkinKraft moisturizer. Thanks SkinKraft!
My skin feels very moisturizing these days. Superb product.
If you have dry skin like me. Then this is the best moisturizer for you!
Super hydrating and soothing moisturizer.
No dry patches. No dullness. No irritation. Just love this SkinKraft moisturizer.
The moisturizer is perfect for my dry skin. It suits my skin unlike other products in the market.
This product has reduced my dry patches. Great product, SkinKraft!
This is the best moisturizer I have used for my dry skin! Thanks, SkinKraft!