SkinKraft
AcneShield Toner For Acne Prone Skin
100ml
11 reviews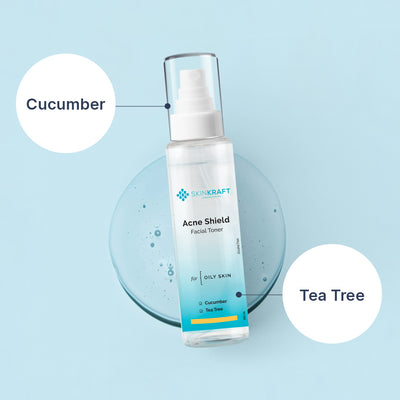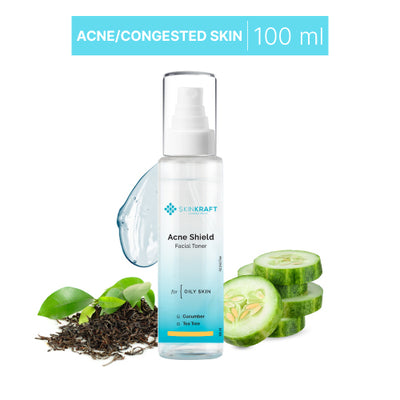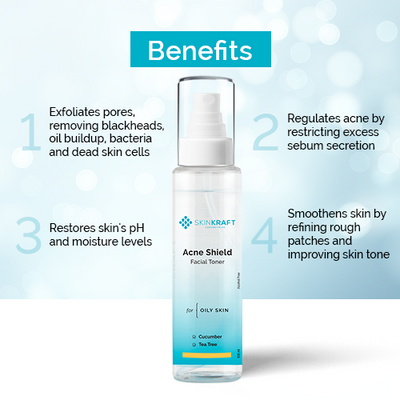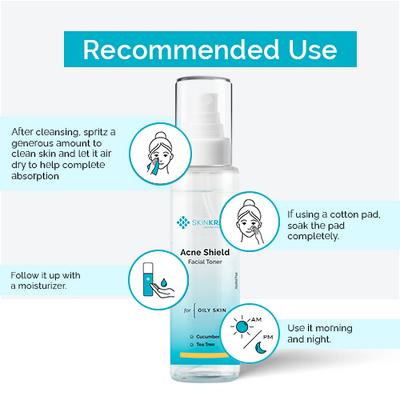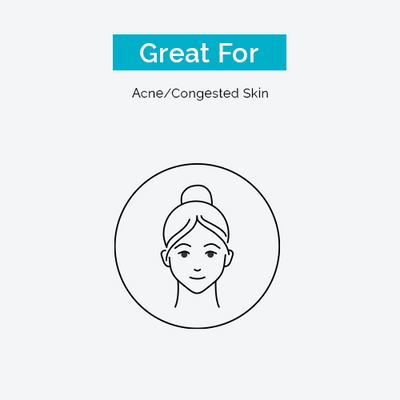 AcneShield Toner For Acne Prone Skin
100ml
Free Of Parabens, Sulfates
Dermatologist Approved
pH Balancing
100% Safe & Effective
Free Shipping Offer Unlocked!
100% Satisfaction Guarantee! Eligible For A Refund If The Product Doesn't Meet Expectations.
Product Description
The AcneShield Facial Toner is specially designed to tackle acne-prone skin. Its powerful formula helps remove bacteria and dead skin cells effectively. It also aids in restricting excess sebum production to restore the skin's pH balance and moisture levels.
What's inside ?
Here's What Your Toner Is Made Of
Cucumber
Helps calm irritated skin and boosts the skin's hydration levels.
Tea Tree
Known for its antibacterial and anti-inflammatory properties, tea tree helps reduce the appearance of acne and redness.
Salicylic Acid
It penetrates into the pores and helps remove excess oil and dead skin cells.
Recommended Use
After cleansing, spritz a generous amount to clean skin and let it air dry to help complete absorption.
If using a cotton pad, soak the pad completely.
Follow it up with a moisturizer.
Use it morning and night.
Customer Testimonials
As someone with a lot of pimples and scars, this toner has been a game-changer for me. It absorbs well into my skin without drying it out and has helped reduce my breakouts.
Maya Thakur, Jaipur
This toner by skinrkaft is super gentle yet effective. Love it because it makes my skin look and feel really hydrated and smooth each time I use it.
Usha Kapoor, Bangalore
Thanks for this SKinkraft!! This toner was an important step that I was missing out on. I've been using it every day and I can see that my skin looks smoother and more even-toned now.
Tahera George, Pune
FAQs
How often should I use the AcneShield Facial Toner?
You can use it twice a day, morning and night, after cleansing your face.
Can I use this toner if I have acne?
Yes, this toner is most suitable for acne-prone skin. It helps deeply nourish the skin, leaving it smooth and even-toned.
How long will one bottle last?
The 100ml bottle should last approximately 3-4 weeks with regular use.
Is this toner cruelty-free?
Yes, this SkinKraft toner is cruelty-free.
Can I use this toner on other parts of my body?
This toner is specially formulated for facial skin.
Here's What Our Customers Say About Us
Excellent quality and works amazingly superb
My skin is with large open pores. I tend to get yellow small small pimples no matter what i do.
But this worked so well on skin.
Since the day i started using this, there is no more single small pimple came on my face. Face is deep clean. Skin stay healthy. Adds shine on skin too.
Excellent product with high quality compositions.
Oily/acne prone skin - a must must try!!
The perfect product for getting an even toned and clear skin. Highly suggest this for irritated skin also as it is very mild."
It really helped in getting a smoother skin. Calmed my skin redness and irritation that happens after face wash."
The best toner for my acne prone skin! After using this for a few months, my skin has a glow and feels very smooth and soft."
A good toner for people with pimples. Makes the skin smooth and reduces redness around the pimples."
A good toner for pimples skin."
I worked really well for my skin! Usually skin feels dry after face wash and pimples become red, but this toner makes the skin very soft and controls redness also."
I'm definitely going to reorder this toner! It has been the perfect product and gave my skin the glow I always wanted!"
I've been using this toner for a few days now and I can really feel that my skin has become smoother and glowing. Go for this one if you are still thinking."
A good product for those who want extra hydration for acne prone and dry skin. Been using it for a few weeks and it has definitely helped reduce the roughness on my face"